Do you know that some lipsticks contain lead? And many other common cosmetic products contain chemicals and preservatives that are harmful to the human body.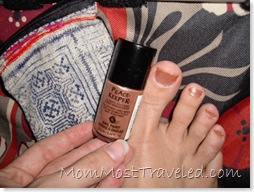 PeaceKeeper™ Cause-metics™ was established to help women worldwide by donating 100% of their profits, after taxes and expenses to women's causes.
Beyond that, are a marvel of modern cosmetic business, because the products are not tested on animals, eco-friendly, slavery-free, fair wage, ethical, and so so pure!
I was so thrilled to receive samples from Taraluna Fair Trade, Organic and Green Gifts of PeaceKeeper Nail Polish, which came packaged in a beautiful Hand-Made Indigenous Bag from Hmong Hill Tribe Women in Thailand.
I didn't know what to expect from the PeaceKeeper Nail Polish, since I knew it was missing all of the usual preservatives. To my delight, it painted on easily and smoothly with no clumps or other monkey business.
If PeaceKeeper Nail Polish is made ethically and without nasty chemicals but can perform just as well or better than brands containing yucky stuff and employing shady business practices, there is no reason NOT to support PeaceKeeper Nail Polish!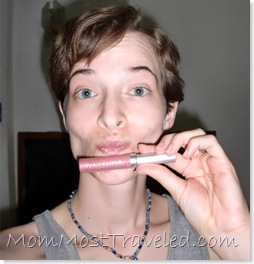 I also got a sample of Eternal Equity Gloss, in a pretty green bag with a brochure and paper flower.
I have to be careful with lip glosses; my lips react to many products, becoming very chapped and disgusting.
I'm happy to report that I had no adverse effects from Eternal Equity Gloss. The color was smooth and I didn't feel like my lips were coated or greasy. They could still breathe!
I also noticed that when I took a drink while wearing Eternal Equity Gloss, it didn't leave a thick, scary waxy residue on the glass.
PeaceKeeper Cause-Metics sources sustainable organic ingredients from some of the best farmers on earth, who use eco-friendly viable alternatives to chemical fertilizers and pesticides that are used in traditional farming.
All PeaceKeeper Products have NONE of the following…
No FD&C Coloring
No Animal Testing
No Artificial Colors
No Artificial Fragrances
No Toluene
No Formaldehyde
No Acetone
No Phthalates
No Parabens
No Synthetic Preservatives
No Mineral Oil
No Lanolin
No Sodium Lauryl
No Sodium Sulfate
NO NASTY ANYTHING !
Taraluna Fair Trade, Organic and Green Gifts has lots of products you can feel good about purchasing. PeaceKeeper™ Cause-metics™ are on sale right now! And, between now and November 14, use coupon code TRAVELMOM at checkout to get free shipping on all orders over $60.00.
Taraluna is giving away some PeaceKeeper Nail Polish, packaged in a beautiful Hand-Made Indigenous Bag from Hmong Hill Tribe Women in Thailand to one Mom Most Traveled reader!
1). To enter for your chance to win visit Taraluna.com and comment here telling me another product you like.
2.) Email subscribers get an extra entry for as long as their subscription is active.
Already a subscriber? Leave me a separate comment on this post to let me know you're interested in this giveaway.
Want to subscribe? Just click here:  Subscribe to Mom Most Traveled by Email (Only verified subscriptions are entered for all the giveaways.)
3) You can tweet about this giveaway once each day for extra entry. Be sure to include a link to this post, and @MomMostTraveled
Leave a comment here for each tweet. Be sure to include your twitter ID.
4.) One extra entry for blogging about this giveaway, including a link to this page and Taraluna.com
5.) Sign up for the Taraluna Newsletter to receive coupons and discounts, and let me know you did. Sign-up is in the left sidebar of Taraluna.com
This giveaway is open to US residents only. This contest will close on November 14, 11:59pm CST