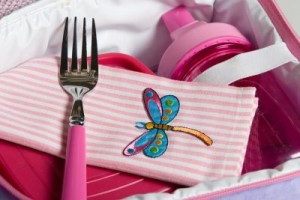 When my oldest son turned two years old, he started eating at the table with us like a big boy. Being a toddler, he was a pretty messy eater, so I made sure to have lots of napkins within reach for him. Gradually he developed a strange habit of constantly shredding paper napkins. It made a huge mess and was very wasteful, so I had to find a solution!
I started giving him only cloth napkins at meal times and found that I enjoyed using cloth so much more than disposable.
One cloth napkin can do the job of ten disposables.
Since I already love using cloth napkins at home for every day meals, I was thrilled to discover Fabkins; cloth napkins designed with kids in mind!
Fabkins are the perfect size for children (13 x 13 inches!) and made from 100% cotton. Fabkins come in a variety of classic, cute designs, sold in theme packs of five. Most of the designs are appropriate for both boys and girls.
Besides using Fabkins at home during family meal times, Fabkins are great for lunch boxes to help you pack a waste-free meal! You can pack two: one to use as a place mat, and one to use as a napkin.
If you are new to the idea of a "waste free lunch" but would like to make your "brown bag" a little greener, Fabkins has some tips on how to reduce waste when packing your lunch!
Fabkins are fun for children to use; my boys love having their own *special* napkins!
The Fabkins website also has great tips on how to teach table manners to your little ones. Something about using cloth napkins brings a touch of class to the table, don't you think?

Fabkins is giving away one set of these adorable cloth napkins in the design of your choice!
To enter, simply check out the designs and tell me which set of Fabkins you want to win! If you are the lucky winner, that is the exact set you will receive!

One winner will be chosen at random.
This giveaway will close on November 2, 2008, 12 midnight!
*Contest closed! Congrats to comment #350, Sandi!*