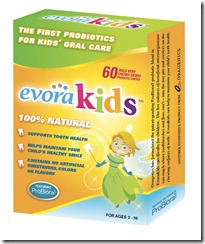 Remember those red tablets the dentist gave you as a kid to detect the spots that you missed when brushing?
My mom didn't even allow us to use those, because they made a huge mess. Red stuff all over the place!
Teaching toddlers to brush properly is  still a challenge, but so important!
How can I teach Deeds to stop chewing the toothbrush and get down to business?
Besides daily brushing and regular dentist visits, there is something new out there for giving kids healthy teeth.
EvoraKids is the first ever probiotic oral care chewable designed for kids ages 3 to 10.
EvoraKids is 100% natural and targets only the bad bacteria in the mouth, establishing a healthy balance of beneficial bacteria. EvoraKids is made in the USA in an FDA registered and GMP certified facility.
I have one box of EvoraKids (ARV $20) to give away!
1.) To enter to win, visit http://www.evoraplus.com/ and leave me a comment with something you learned there.
One winner will be chosen at random.
2.) Email subscribers get an extra entry for as long as their subscription is active.
Already a subscriber? Leave me a separate comment on this post to let me know you're interested in this giveaway.
Want to subscribe? Just click here:  Subscribe to Mom Most Traveled by Email (Only verified subscriptions are entered for all the giveaways.)
3.) Twitter about this giveaway (include a link to this post, @EvoraPLUS and @MomMostTraveled ) and comment here with your Twitter name. (once daily)
4.) Blog about this giveaway, including a link to this post. Leave me a comment with the link so I can check your post!
5.) "Like" EvoraPlus on Facebook, and comment here letting me know you did so.
This giveaway is open to those with a US or Canadian mailing address.
This contest will close on Thursday, May 20, 2010 midnight CST.