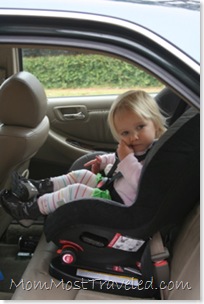 Buying a carseat is one of the larger investments you make when a baby comes along (not including teenagerly demands such as a new car, college tuition and the like).
And it's one that parents often make in the dark.
I know when we bought our first carseat, the decision was mostly influenced by the lady who happened to be standing in the carseat aisle at Babies R Us.
The Evenflo Triumph Advance LX Convertible Car Seat is a carseat that one would be lucky to happen upon.
After extensive testing, I can vouch that it is a solid carseat. Made for children from 5-50 pounds, it can be used as a rear-facing or forward-facing carseat.
It rates high in the Consumer Reports safety rankings. And although we have not tried this (yet), the seat is also FAA approved for airline use.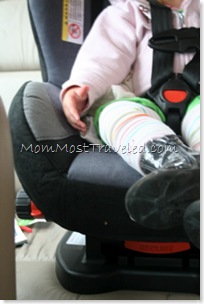 The Evenflo Triumph Advance LX Convertible Car Seat was not difficult to install; Chip had it in the car (using the LATCH method) in just a few minutes. Buckley loved it and wanted to sit in it immediately…I think its wide berth made her feel like a princess on a throne.
Speaking of wide berth, that was really the only complaint we had with the carseat. In my average-sized Honda Accord the carseat took up more than its fair share of backseat space. I feel sorry for whoever has to share the backseat on the next road trip. Not a problem if you have only very small children, or never go on road trips with friends, but if you do, take that into consideration.
Another aspect of this carseat's size is how good a fit it would be with a very small child. Buckley is almost two and smack in the middle of the recommended weight range. She fits perfectly in the seat.
However, I can't imagine putting a newborn baby in this seat, even if it is within the range of safety. I just picture a poor sleeping baby's head rolling around and around. And judging by some comments offered by users who did just this, that can indeed be an issue.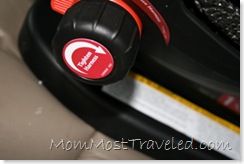 One of the great things about the Evenflo Triumph Advance LX Convertible Car Seat were its TensionRight knobs. These knobs allow for rapid and easy tightening and loosening of the harness straps that go over your child's shoulders. These were a vast improvement on the typical push-pull war I have with other loosening "systems".
The seat pad is machine washable, if a bit difficult to remove and replace before and after washing. Overall, though, the Evenflo Triumph Advance LX Convertible Car Seat is a great carseat: sturdy, safe, and reasonably priced.
Marti's writings have appeared in Paste, Southword, Southern Living, Portico, and Lipstick Magazines.
She blogs about her culinary discoveries at blankpalate.blogspot.com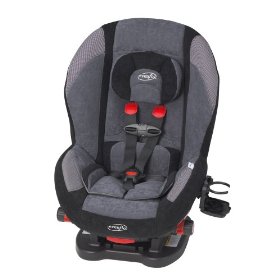 1.) To enter to win a Triumph Advance LX Convertible Car Seat, visit http://www.evenflo.com and leave a comment on this post with another product you like or something you learned.
Please don't just comment with "Enter me" or "Sounds great". That totally annoys me. Those entries are not eligible to win.
One winner will be chosen by random number generator.
This giveaway is open to those with a US mailing address.
2.) Email subscribers get an extra entry for as long as their subscription is active.
Already a subscriber? Leave me a separate comment on this post to let me know you're interested in this giveaway.
Want to subscribe? Just click here:  Subscribe to Mom Most Traveled by Email (Only verified subscriptions are entered for all the giveaways.)
3.) Twitter about this giveaway (include a link to this page and @MomMostTraveled ) and comment here with your Twitter name.
4.) Blog about this giveaway, including a link to this post. Leave me a comment with the link so I can check your post!
This giveaway will close on December 3, 2009, 11:59 pm EST.