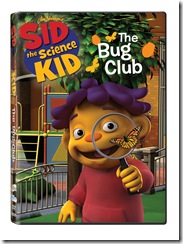 Remember when we were kids and could tune in to the scientific experiments of Mr. Wizard?
What kind of programs are available today to teach kids about science? For preschoolers, there is Sid the Science Kid!
The brainchild of The Jim Henson company, Sid the Science Kid is a preschooler who wonders about the world around him.
Sid asks questions and investigates how and why things happen, along with his young friends.
I like Sid because his friend act like real preschoolers! The show isn't overly cutesy or condescending.
Sid the Science Kid: The Bug Club was released on DVD in August. In this 115 minute, 4 episode DVD, Sid and friends learn about animals and insects in their neighborhood and classroom. Sid asks insightful preschool-esque questions, leading to investigations about how animals communicate, and why they live in certain places.
The fun songs make Sid the Science Kid: The Bug Club entertaining and educational at the same time.
Sid the Science Kid: Change Happens is another Sid DVD in which the concept of change is explored.
Sid learns about decay (why do bananas turn brown?), temperature (why do ice pops melt?), and growth (why do my shoes get too small?).
Sid the Science Kid: Change Happens is 115 minutes long and contains 4 different Sid episodes.
Sid the Science Kid: Change Happens is engaging and informative for both preschoolers and parents. I learned something myself!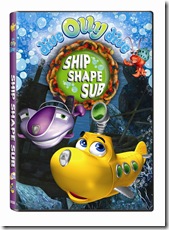 Dive Olly Dive is all about Olly, a young submarine-in-training, Beth (another sub), Diver Doug, Skid (Doug's vehicle), Brandt (a pirate-esque hermit crab), UMA (a Maintenance octopus), Ranger (a cowboy seahorse), Shankley (sea crane with a Scottish accent), Suzy (a sea plane) and Luseal (a seal).
Olly "works" at the Special Underwater Research Facility (S.U.R.F.)
Dive Olly Dive: Ship Shape Sub is a 55 minute DVD that contains 5 Olly episodes (each is 11 minutes long):
In Haunted Ship Prank, the gang finds that a sunken ship isn't haunted, but it is dangerous!
Less is More teaches that even someone small can be wise and give good advice.
Navigation Complication teaches us that even "old fashioned" ways of doing things are useful to learn.
Follow That Lobster is an adventure when Olly ignores important details and gets himself and Beth lost, following a trail of lobsters!
Don't Tell Beth, because Olly ignored Beth's advice, which got him into trouble! Please don't any body tell!
These three DVD's would be an educational and entertaining addition to your preschool DVD library.
I have a set of all 3 to give away!
1). To enter, leave me a comment telling me WHO you would give these DVDs to if you won, and what programs they enjoy watching now?
2.) Email subscribers get an extra entry for as long as their subscription is active.
Already a subscriber? Leave me a separate comment on this post to let me know you're interested in this giveaway.
Want to subscribe? Just click here:  Subscribe to Mom Most Traveled by Email (Only verified subscriptions are entered for all the giveaways.)
3) You can tweet about this giveaway once each day for extra entry. Be sure to include a link to this post and @MomMostTraveled. Or, just copy and paste this text below for your tweet:
Win a 3 DVD set for preschoolers @MomMostTraveled http://bit.ly/1YJQMC Sid the Science Kid & Dive Olly #giveaway
Leave a comment here for each tweet. Be sure to include your twitter ID.
4.) One extra entry for every social bookmarking site you submit this post to (examples: Digg, StumbleUpon, posting on Facebook). Leave a comment for each with your user name.
5.) Blog about this giveaway, including a link to this post.
This giveaway is open to US residents. This contest will close on September 22, 11:59pm CST