My 4-year-old has a new obsession, and their name is Emotes!
When I first took a look at Emotes, I was a bit put off by their appearance. Because, um, they are kind of freakish and ugly looking.
But Jojo was immediately excited about having new "heroes", and started asking me all kinds of questions about his new Emotes.
What is his name? What does he do? Why is he sad?
To satisfy Jojo's curiosity, I had to do some research on Emotes. And? The more I learned about Emotes, the more I grew to like them!
Emotes were developed as a learning tool to help children better understand and handle their emotions.
The Emotes are cyber-beings with human-like emotions that live inside the internet. In their land of Emotia, each character has "powers" that corresponds to their distinctive personalities. For example, there is a character called "Drain", the exhausted Emote. His super power? A Power Yawn!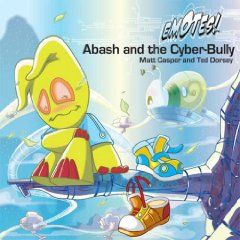 Besides being exciting for young boys to play with as 2.5″ figurines, Emotes also star in a series of picture books.
The Emotes storybooks each follow one of the distinctive characters and have strong story lines. The main focus of the stories is positive messages about healthy behavior.
The books are written and developed by Matt Casper, a licensed marriage and family therapist, and Ted Dorsey, a private education specialist.
In Abash and the Cyber-Bully, Abash (the embarrassed one) finds himself targeted by a cyber-bully (because Emotia is inside the internet, remember?), and a series of events unfolds that helps everyone become more aware of this problem.
I usually frown upon classifying a toy for a specific gender, but I can't deny that Emotes are an extremely valuable tool for teaching young boys about healthy emotions.
Even just explaining the names of the characters to Jojo has resulted in interesting dialog about different feelings, when and why we experience them, and what it all means.
As progressive as American society might be, there is still an overwhelming tendency for males to "stuff" their emotions rather than expressing them. This includes both positive and negative emotions.
Many times Daddies don't exactly know how to deal with their feelings appropriately. They might err on the side of being the "tough guy" or the "strong one" in the family.
Emotes are a fun and useful way to open up the doors for communication about feelings in your home.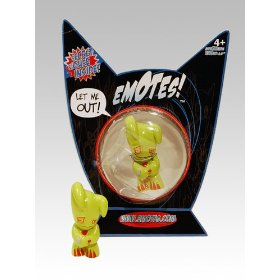 The Emotes product line includes the book series, a collection of vinyl "action" figures, Emotes plush toys, online games and accessories.
The toys can be presented in compelling ways, such as the The Emotes Emotions Display Case , which allows kids to use the vinyl figures to reflect their daily moods in the "Today I am Feeling" window.
Jojo saw me browsing for Emotes product images online as I was preparing to write this review. According to him, he wants ALL TWELVE of the Emotes.
I don't really blame him. Each of the Emotes has a unique and interesting personality. They are also appealing because they live in the internet; their lives are similar to normal children but with a twist of technology.
Jojo enjoyed watching the video clips from the Emotes website, especially the video about Boom's Anger Problem. Boom talks about his bad day and the things that made him angry, such as accidently breaking his "hover board".
Also on the Emotes website, you can read Comics staring the Emotes characters. I read several of this out loud to Jojo (he insisted). We played some Emotes games, too. Actually they were a little advanced for a preschooler, so I played and Jojo watched, supplying frequent giggles.
So, it looks like Emotes are here to stay at the Mom Most Traveled home. I highly recommend checking out the Emotes website, and think about how Emotes might be beneficial in your home or classroom!