Shoes for little Travelers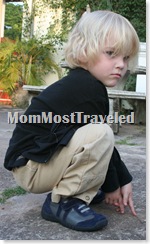 Entering childhood used to mean leaving swanky boutique-quality shoes in the dust of the baby department in favor of gaudy sneakers emblazoned with licensed characters.
Eleven Collection is doing their part to end the tacky shoe travesty, having created an incredible line of top-end shoes for children.
Eleven Collection is the sister company of See Kai Run. While See Kai Run makes quality baby and toddler shoes, Eleven Collection carries comfortable, high-quality, sharp-looking shoes in sizes 9 to 3.
Eleven Collection shoes are appropriate for a "dressy" event, but comfortable enough for everyday play.
As great as they look, these shoes are meant to be worn! All Eleven Collection shoes are made from premium materials with all leather uppers, and durable, sturdy soles with great traction.
The soles are durable, flexible, and surprisingly light weight.
The premium leather is soft and breathable (less stinky feet!), and the cushioned insole and padded collars make these Eleven Collection shoes a delight to wear.
Our resident 4-year-old is sporting a pair of Eleven Collection's Josef shoes these days. They look like a sophisticated version of the classic trainer.
Jojo likes his hopelessly hip Eleven Collection shoes because he can put them on all by himself, thanks to the Velcro strap and flexible uppers.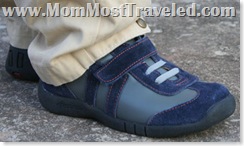 Jojo and I don't always agree on which pair of shoes are most suitable for wearing in public. The red rubber boots have been a trusty standby for a while now.
Thankfully, Jojo likes the look and the comfort of his Eleven Collection shoes enough that he easily consents to wearing them.
I love that these Josef shoes have a sneaky number eleven on the side, disguised as two stripes.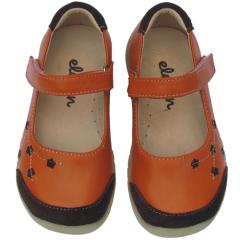 Eleven Collection has a wide selection of unique and attractively designed shoes for both boys and girls.
I study their catalog and, yes, even dream about the day that I will need to buy little girl shoes. I eagerly await the release of the next line from Eleven Collection!
Until November 20th, you can get FREE SHIPPING on any order from the Eleven Collection online store!
Eleven Collection has great shoes, everything from boots to sandals!
You can also enter in the Eleven Collection Photo Contest, for a chance to win a free pair of Eleven Collection shoes.
Eleven Collection is also giving a Mom Most Traveled reader their choice of one pair of shoes!
To enter, visit the brand new Eleven Collection website and comment here with the style and size of shoe that you want to win!
One winner will be chosen at random.
This giveaway is open to those with a US mailing address.
This contest will close on November 27, 12 midnight CST!
*Congrats to Colleen Stearns!*