ECOGEAR and EcoTech bags are "saving the world one bag at a time," by making quality products using only planet-friendly organic cotton, PVC-free materials, recycled plastics and toxic-free dyes and components!
These eco-friendly bags are free from chemicals that are harmful to the environment and personal health!
EcoGear and EcoTech bags are PVC free, using instead a patented system called Ecoweave (EPO), which creates virtually no risk to the environment or to human health.
Wouldn't it be great to eliminate harmful PVC in your home and work environments?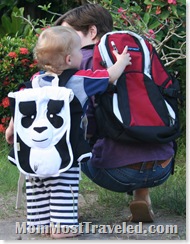 Besides being eco-friendly, my Snow Leopard backpack from the Genus Series is the most comfortable backpack I have ever owned! It must be the ergo-padded shoulder straps. EcoGear definitely got it right!
I also love the internal organizing pockets, including a MP3 player pouch with port, a soft-lined valuables pouch, and a neat inner Velcro brace the perfect size for a water bottle.
Though not designed as a computer bag (that is what the Tiger is for!), the Snow Leopard backpack is large enough to contain my lap top.
This is one Traveling Mama who has found her perfect backpack!
EcoGear also has lots of cute bags for children! I'm sure you noticed Deeds's adorable PANDA bag from the EcoZoo line!
The Panda EcoZoo bag has an adorable face with a plush tummy, nose, and arms.
The EcoZoo bags are very sturdy, made from thick organically-grown cotton canvas & rope materials and decorated with non-toxic dyes.
The plastic components on the adjustable padded straps are made from recycled plastic, and the button closure is made from sustainable wood.
These little bags are sized at 14 in. x 10 in. x 5 in. I was able to fit a 1″ binder inside with no problem, but these are best suited for preschoolers.
EcoGear has bags for a variety of purposes, including the hip Lifestyle series, Kids' school bags, and a soon-to-be-released RECYCLE series, made from recycled PET bottles.
EcoGear is sponsoring a generous giveaway for Mom Most Traveled readers. One winner will receive a backpack from the GENUS line (choose from Snow Leopard, Mohave Tui, or Big Horn) AND a backpack from the EcoZoo line! This is a $110 value to one winner!

To enter, leave me a comment on this post with both:
Your choices for your prize
Another item from EcoGear that you like.
Only entries that answer both of these questions will be eligible.
One winner will be chosen at random.
This prize will be shipped to a US mailing address only.
This giveaway will close on Friday, November 14, 12 midnight.
*Congrats to Dawn M. (nonblogger)!*