Earthworm Ensemble is a folksy children's album with a country feel, created by a team of accomplished, California-based musicians.
I debuted my review copy of Earthworm Ensemble in my 3K class this week and was pleased to have a fresh album with unique tracks unlike any of the other CD's in our classroom collection.

The styles and themes of each track are diverse, which makes for a fun listening experience for the children as well as for myself.
The Traveling Train is one of my favorite tracks because of the strong rhythm, the amazingly deep bass singer, and the ever popular theme!
That's What The Earthworm's For is a catchy song that sticks in my head like velcro. You will be humming this one…
Bang A Drum is kind of like musical beatnik poetry; I put it on for my students to do interpretive movement.
We Are Birds is like one of those relaxing nature CD's, not unlike the soundtrack in the spa where I go for massage. (I'm surrounded by preschoolers more than 12 hours a day. I need massages.)
Mama Loves You is absolutely adorable, making me wish I had a baby to rock to sleep while singing these sweet lyrics. Not that both of my babies were good sleepers or anything…
I'm enjoying watching my 3K students groove to Earthworm Ensemble!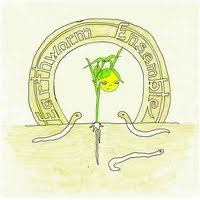 If you live in the area, you can catch a live performance by Earthworm Ensemble on these dates:
Sunday, February 28, 11 a.m.
Acoustic show for all ages
McCabe's Guitar Shop
3101 Pico Boulevard Santa Monica, CA 90405
Information: (310) 828-4497 www.mccabes.com
$8, kids under 2 get in free
…
Sunday, March 7, 2 p.m.
Rockin' electric show with special guests!
The Echo
1822 W. Sunset Blvd Los Angeles, CA 90026
Information: (213) 413-8200 http://www.attheecho.com/
$5 all ages