Did you know that simply drinking the leftover milk from cereal bowls may help kids work towards fulfilling their body's daily dairy, calcium, and Vitamin D needs?
Big G cereal has cool prizes right now! Big G Curvy Straws featuring characters  from cereals like Cinnamon Toast Crunch® (17 oz.), Lucky Charms®(16 oz.), Reese's® Puffs (18 oz.), Honey Nut Cheerios® (17 oz.), Trix®(14.8 oz) and Cocoa Puffs® (16.5 oz).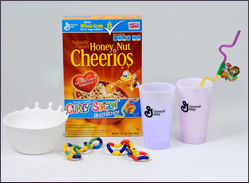 Need more cereal to go with your milk? You can visit this link to download a printable coupon for $1.25 off of the purchase of (2) boxes of participating Big G cereal today!
www.wholegrainnation.com
I got a sweet prize pack that contains: 1 box of a participating Big G cereal 1 Curvy Straw 1 'spilt' milk bowl 2 glow cups 2 tangle toys.
Want to win your own prize pack? Comment on my face book page with what cereal you think leaves behind the tastiest milk!
"Disclosure: The prize pack, information, and giveaway have been provided by General Mills through MyBlogSpark."