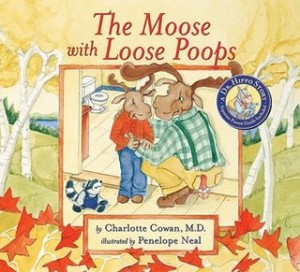 Jojo had been talking about the children's museum for about 9 months. When his Grandmother visited last week, the opportunity presented itself for her to take him. The morning he was to go to the museum he woke up looking very pale. As Grandmother and Jojo pulled into the parking lot of the much-anticipated museum, Jojo vomited.
I felt so sad for him being *THISCLOSE* to his dream of the children's museum, only to get sick in the parking lot and not be able to go inside!
Dr. Charlotte Cowan created a collection of children's books to help educate and reassure families about common childhood illnesses.
Each book features one illness and explores how it affects
the life of the main character.
In The Little Elephant with the Big Earache , we meet Eddie Elephant and learn about what it feels like to have (and get better from) an earache.
Katie Caught a Cold chronicles what happens when an ice skating polar bear gets a cold.
Peeper Has a Fever is about a frog with a fever of 104° who wants to get better and participate in a diving contest!
Sadie's Sore Throat is about a giraffe with a sore throat and has to have a throat swab (something I always found to be traumatic as a child!).
The Moose with Loose Poops is about a moose with vomiting and diarrhea (gastroenteritis).
Each animal is the patient of a friendly pediatrician hippopotamus named Dr. Hippocrates.
Every book is a gorgeous hard cover with 32 pages of full color illustrations. I also love that in a pocket inside of the pack cover is included a separate laminated Parent Guide that contains advice about how to keep your child comfortable, and what are some signs that should prompt you to call the doctor.
This evening at bed time, we read The Moose with Loose Poops. Though the title makes me snicker, this is a seriously good book! Four-year-old Miles the Moose is stricken with stomach upset and "throws up" one afternoon. Later, he also has diarrhea and has to postpone a fun father-son camping trip.
Jojo listened solemnly through the entire story. I thought he would laugh at the "poop" talk, but he seemed sympathetic, actually. He has definitely been in Miles's shoes before. He is also keenly interested in the digestive system, beyond the cursory love of "potty talk". Nick and I once overheard him acting out a scene with his action figures in which one party was eaten. Jojo made the consumed one call out, "Help meee!!! I'm in the bowel!"
The books in the Dr. Hippo series contain well-written stories. I was expecting more of a scientific approach, but each character is really made "human". Miles the Moose wants his special stuffed Raccoon when he feels sick. The mothers are all helpful and reassuring when caring for their sick animal children. The sick characters also have siblings that they interact with in a realistic way. Tasteful but descriptive language is used to help little ones understand the nature of each sickness.
The parent guides in the back of each book are a wonderful resource. In the back of Peeper Has a Fever, I learned that if a child between the ages of 3 months and 2 years has a fever over 102 F (39 C), it is time to call your doctor for advice. I always thought that 104 was the time for concern, but that applies to children ages 2 and older.
As a testament to how well the Dr. Hippo books were received by a real live 4-year-old boy, I read him one title to Jojo on a night when he was having trouble falling asleep. After completing the book, he wanted to read the other 4 titles. I told him to stay in my bed and look at them while I took a shower. He stayed engaged with these books for 27 minutes! That was definitely a first! Thanks for the peaceful shower, Dr. Cowan!
The Hippocratic Press has very generously offered to give one reader the entire Dr. Hippo Series of all five titles, including Peeper Has a Fever, Katie Caught a Cold, Sadie's Sore Throat, The Moose with the Loose Poops, and The Little Elephant with the Big Earache. That is an $89.75 value! Yowza! AND? Author Charlotte Cowan, M.D., will autograph the books, personalizing them for your child!
1.) To enter to win, visit http://www.drhippo.com/ and leave a comment here telling me something you learned! They have a blog too if you want to search for an interesting fact there.
Please don't just comment with "Enter me" or "Sounds great". That totally annoys me. Those entries are not eligible to win.
One winner will be chosen at random.
This giveaway is open to those with a US mailing address.
This contest will close July 3, 2009, 11:59 CST.
*Contest closed and winner announced!*
Browse more giveaways here, or list your own!