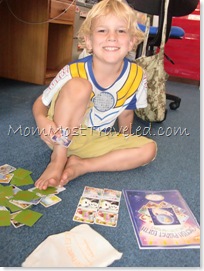 I Cherish Planet Earth Book and Matching Game is a unique, fun, and age-appropriate resource for teaching young children to be good stewards of the Earth.
Instead of conservation tips that are out of reach for children (walk instead of driving, keep your thermostat set conservatively?), I Cherish Planet Earth uses beautiful illustrations and succinct principles that appeal to children.
I celebrate peace. I grow a garden. I love the mysterious.
I love the minimal packaging and waste of the I Cherish Planet Earth memory game and book set. Besides being made in the USA and printed on recycled paper and cardboard with Vegetable-oil based inks, the cards are packaged inside the book. Once you punch them out, they can be stored in the included cotton drawstring bag.
I like the way the drawstring bag of memory cards doesn't take up much storage space on our game shelf!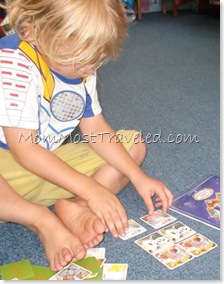 The set includes 24 pairs of beautiful card to match, A love letter to Mother Earth, Affirmations, tips on how to extend the game for different ages and levels, and a donation to the 1% For the Planet Organization. The packaging and materials are earth-friendly with a Cotton drawstring pouch to hold game pieces; Printed on recycled paper and cardboard with Vegetable-oil based inks. Made in the USA!
I teach 3K, and my office is connected to Jojo's 4K classroom.
One day he came into my office and said he needed something quiet to do, because his classroom was too noisy (me too, honey).
I let him play a solitaire version of the I Cherish Mother Earth matching game. It was the perfect relaxing, quiet activity for him.
I Cherish Planet Earth is intended for ages 4+. I plan to use the book and cards in my class to prepare for Earth Day next spring. We will focus on one page or card a day in order for my older 3's and younger 4's to be able to access and digest the concepts.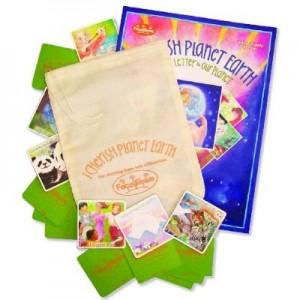 This neat little set recently won the Dr. Toy Green Product of the Year Award, and is useful at home and in the classroom.
I Cherish Planet Earth is part of the Challenge & Fun family, and is produced by FocusBloom.
Buy one:
Get yours on Amazon, MyToysMart.com, Three Sisters,
Tree Hollow Toys, or My Little Green Room.
Win one:
*I Cherish Planet Earth Giveaway at Paisley and Pretties, ends 12/09
*Giveaway at The EcoChic, ends 12/10
*Giveaway at Jamie's Precious Peas, ends 12/14
Learn More:
Sage and Savvy Review
Non-Toxic Kids Review
Challenge and Fun Blog
We are grateful for the complimentary I Cherish Planet Earth that we were given for review.