I moved overseas in 2001. I probably only called home about four times between 2001 and 2004.
I remember calling the states from a pay phone on the streets of Bangkok to tell my mother that I was pregnant with her first grandchild (in 2004).
As taxis and tuk tuks whizzed around me, all I heard from the other end of the line was an anxiety-ridden sigh.
When Skype was invented, whenever that was, it totally changed my life.
I could call the US whenever I wanted, for only one penny a minute! Or, Skype-to-Skype calls were totally free. Hot-diggity dog!
I launched my blog in 2007 while still living abroad, and was able to grow it with the help of Skype.
I was a guest on podcasts via Skype, and I even landed a job for a Manhattan PR firm while still living in Laos. We did business calls via Skype. One call in particular that left me in awe of the power of Skype was a four way conference call where one party was in South Africa, one in Asia, one in England, and one in NYC. GO SKYPE!
On a personal level, the grandparents are now able to watch their grandbabies grow up via Skype. I have one friend whose mom lives in Japan. Almost every night, she reads her NYC-dwelling grandkids a bedtime story on Skype!
When I am away from my children, we stay connected with Skype. Their dad can set up the webcam so that I can just watch them play. They are only 4 and 7 years old…I remember dreading talking to relatives on the phone at that age. But I can just watch them play and it doesn't cramp their style. They can show me things on the web cam. In this screen shot, Deeds is using Skype loaded onto and iPod touch that I bought the kids just for that purpose: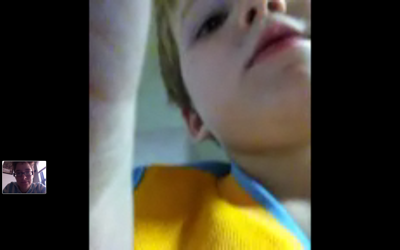 And here he is Skyping with me on a laptop:
Have you ever video chatted your mom? You can visit Skype's "Mom You Rock" Facebook page and send a video message to a mom in your life!
A video message is so much more personal than a preprinted greeting card. Am I right?I
You can check out the Skype Facebook Page, too!
"I participated in a campaign on behalf of Mom Central Consulting for Skype. I received Skype credits to facilitate my review and a promotional item to thank me for participating."