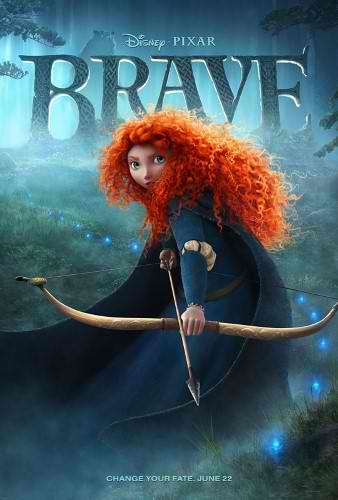 I was a part of a select audience in a select theatre in an undisclosed location in a select city to get a sneak preview of the new Disney/Pixar movie BRAVE….in 3-D no less.
BRAVE is the story of a Scottish princess, Merida and her struggle to change her fate. Merida is an inspiring heroine with beautiful red hair and skills with a bow and arrow.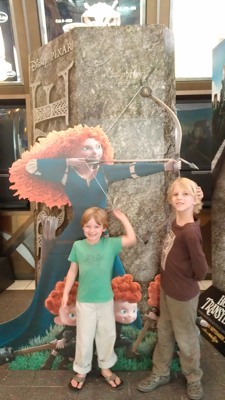 After you catch the film, be prepared for your kids to want to shoot a bow and arrow. 
BRAVE had all of the elements of other favorite Disney films: a plucky heroine who wants to go her own way, dark magic, a lovable yet misunderstood father figure, comical sidekicks, and scenes that make moms start to get a little misty-eyed. 
The movie seemed very fast paced, but even my 4-year-old caught on to some key plot points. When a character was about to make a bad decision, Deeds predicted (out loud) what would happen if they chose the wrong course. Which clued me in that he was following the storyline and not just enamored by the flashing screen.
Kudos to Disney for making films that families can enjoy together. 
Besides the novelty of watching BRAVE in 3-D, I really enjoyed the quirky Scottish words and the adorable accent. 
Luckily, I read the BRAVE Scottish Glossary before the film. You might want to do the same:
Here is a sample of words from the BRAVE Scottish Glossary:

BUNCH OF GALOOTS

Many fools

galoot = clumsy, oafish person

DREADFUL COLLYWOBBLES

Unwanted stomachache or a bad case of the nerves

collywobbles = upset stomach; intestinal disturbances or a feeling of apprehension

JIGGERY POKERY

Nonsense

JINGS CRIVENS HELP MA BOAB

Oh my!

Exclamation of bewilderment or exasperation

LASS

Girl

LAD

Boy

MICHTY ME

Wow! Holy cow!

An exclamation of surprise, shock or being overwhelmed

 NUMPTY

Useless individual
   If this puts Scotland on your MUST VISIT list, VisitScotland has just launched a new series of travel itineraries that showcase various themes from the movie – from Ancient Scotland to Myths and Legends and Scottish Castles.
Families can use the itineraries to plan a trip that brings to life the history, culture, traditions and countryside that inspired the film's creators: http://www.visitscotland.com/brave/itinerary.
More here:  http://www.visitscotland.com/brave/travel-experiences/.   
"Like" BRAVE on Facebook: http://www.facebook.com/PixarBrave