I got to watch a preview screening of Diary of a Wimpy Kid: Dog Days earlier this week.
My 7-year-old Jojo is a huge fan of the Diary of a Wimpy Kid series of books, but I didn't know what to expect from the movie.
I found it to be laugh-out-loud funny, and real without resorting to being "edgy" or "pushing the line of decency" in an attempt to reach a tween audience.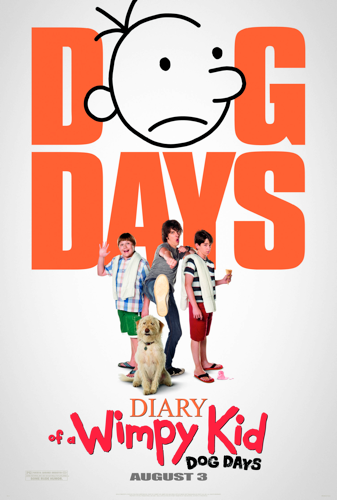 I have great respect for author Jeff Kinney. I got to interview him and I asked about his desire to write for an adult audience, and if he planned to pursue that in the future.
His response was:
"There is an appetite for hard R content, [and] I'm actually personally uncomfortable with it. I don't enjoy those movies as much as the type of films from 10, 15 years ago that were a little bit more on the PG side of things.

I would love to figure out a way to develop a television show that falls under that. And I think there is a way to do it, but we'll see."
That outlook makes me respect Jeff Kinney's work even more! I think there is a lack of "wholesome" entertainment for children in the middle years age group. I would like to bridge the leap from innocent preschool programming to tween programming.
Know what I mean?
I also got to have my photo taken with the two actors who play Greg and Rowley in the film, and author Jeff Kinney himself!
Squeee!
Diary of a Wimpy Kid 3: Dog Days opens in theatres Friday, August 3rd!
Catch it this weekend!
.
..