Thailand has a wide variety of disposable diapers available, especially in large cities. These pictures are from a Tesco Lotus store in Udon Thani, Thailand.
Mamy Poko are some of the most absorbent diapers available. I think they are even better than diapers in the States. I had a bit of a shock when we went to the States and well-known US brands couldn't take the same "abuse" as Mamy Poko!
Mamy Poko are available in Thailand, Laos, and China, and probably other Asian countries as well.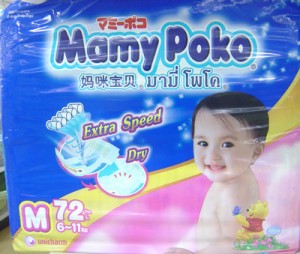 Mamy Poko diapers are soft, non-plasticy, and have the re-positionable Velcro tabs.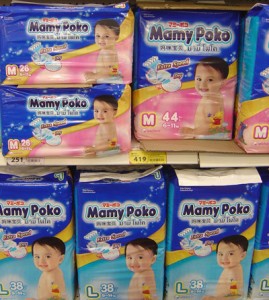 DRYPERS are my second favorite. Drypers are less expensive than Mamy Poko but still high-quality. They are absorbent (we use these as an overnight diaper), and feature a soft, non-plastic exterior. Drypers don't have velcro tabs, but a strip of plastic across the middle where stick-on tabs can adhere. Drypers are available in Thailand and in Vientiane, Laos.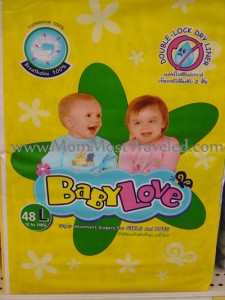 BabyLove diapers are another brand that we have used, available in both Thailand and Laos. We used these for the economy of it. They are the plastic diapers that I remember from the 1980′s in the U.S. Stick-on tabs, and the exterior is the same texture as a garbage bag.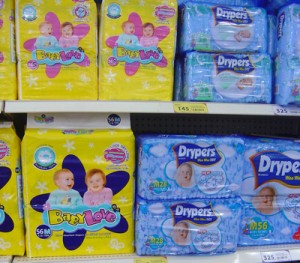 More and more brands are becoming available. We once purchased Fitti brand diapers because they came with a cute free baby tank top: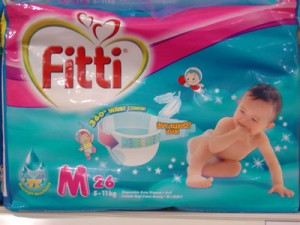 This is the first year I have noticed lots of Huggies diapers available in Thailand. If you can see on the shelf, the Huggies are about three times as expensive as the Tino diapers. I haven't noticed Tino and Huggies available as widely in Laos, but you can get them in Thailand.
Tino diapers are also worth checking out. Tino brand is my favorite for baby wipes.