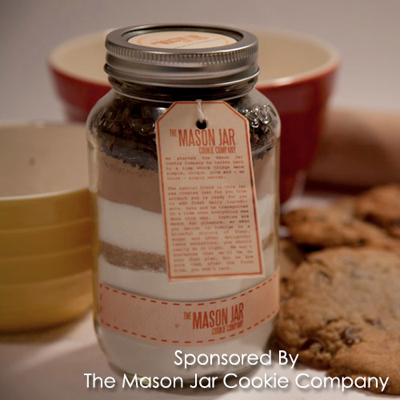 When I was in college one year, I was all, "I know an awesome way to give everyone a gift for not a lot of money! I will make GIFTS IN A JAR! Hecks yeah!" Homemade cookie mix. In a jar. Okay you know what? That was a big pain in the butt trying to make those gifts in a jar. So whatEVER.
But! The Mason Jar Cookie Gifts are perfect for giving because THEY PUT THE STUFF IN THE JAR FOR YOU.
Its all in the jar. I like that.
I was deathly ill a week ago and as a single parent, I had to depend on the kindness of my neighbors and friends to help me not die (slash) bring me food and feed my kids.
So, when one friend brought bread and juice and one friend brought soup, after I returned to the Land of the Living, I decided to give them "thanks for not letting me die" gifts from The Mason Jar Cookie Company.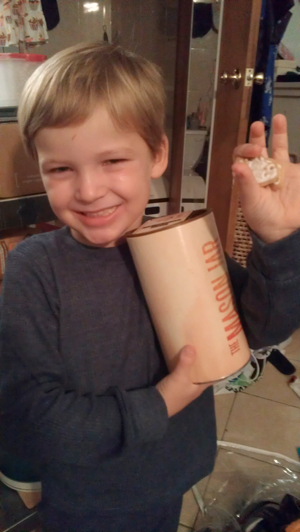 Deeds was SO excited to deliver them he wanted to run out in his pj's. Seriously. 
I was pleased that the packaging is really cute, and the jar inside looks all special and fancy with the layered ingredients. 
The Mason Jar Cookie Company provides everything you need to create your own customizable gifts…you can choose the type of cookie, or kind of "build your own adventure" cookie mix. There are even Gluten-Free options!
There are four cookie bases and thirty-five add-ins to choose from. You make the choices (its fool proof, don't worry, they guide you and won't let you fail).
When your custom cookie mix arrives, it's layered all pretty like edible sand art in a mason jar.
Follow the directions, which is something like "add butter and an egg", and bake it up.
The average price of one custom-made cookie jar is $19 (prices vary)(doy duh).
So don't make yourself cray cray searching for recipies for cookies or trying to layer a chocolate cookie mix in a jar yourself. Just…stop.
Also, if your friends help you not die by bringing you food when you are too dizzy to walk to the door, bless them with deliciousness!
Thank you, Mason Jar Cookie Company!