I put up the Christmas tree today, with much enthusiastic help from my 4-year-old son Jojo.
This year we added some new ornaments to our collection from Taraluna Fair Trade, Organic, and Green Gifts.
Jojo was excited when he saw these new decorations!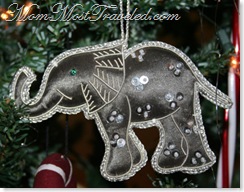 These beautiful hand-beaded ornaments are made by artisans in India, under fair trade conditions.
I love elephants, having spent lots of time in Laos, a place that used to be called Lan Xang, meaning Land of a Million Elephants.
This Heirloom Quality Hand Crafted Grey Elephant Ornament is a meaningful addition to our tree.
He is 3 1/2 inches long, has a soft, satiny body with tightly sewn beads and sequins.
These ornaments are distributed by World Finds, a company who works with women's self help groups and small artisan families to help them make a living from their craft.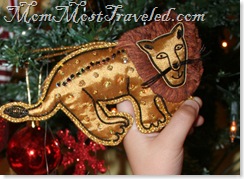 This is Jojo's hand holding the Heirloom Quality Hand Crafted Lion Ornament. It is a full 3″ long and very sturdy.
The whiskers and black outlines are made from tightly coiled black wire that is smooth to the touch. The beads are sewn on securely. The body is stuffed slightly and feels soft.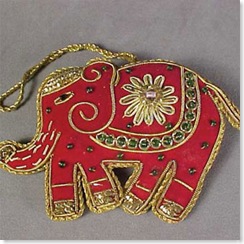 Our new Heirloom Quality Hand-Beaded Red Elephant Ornament fits right in with my red, silver, and gold Christmas tree theme that I seem to have unconsciously created.
These ornaments from Taraluna add a touch of whimsy to our holiday decor (who would expect to see an elephant amongst the candy canes?), but they also represent the good will of the season.
Buying fair trade products guarantees that your money is going to support a artisan who is being paid a living wage.
Taraluna has a wide selection of fair trade products, like housewares, beautiful handcrafted Christmas ornaments, green lunch products, baby clothes, toys and gifts, jewelry, spa, fair trade organic chocolates, teas, and other unique items!
I met someone two weeks ago who works in a sweat shop. She is a twenty-two-year-old girl who sews upholstery for 12 hours per day, earning $25 per month.
The factory is not air conditioned or heated, and is surrounded by high walls and barbed wire. Usually the workers are "given" a place to sleep within the compound walls. These are very simple, shared accommodations that are in worse shape than homeless shelters in the USA.
I don't know if she gets the weekends off. Probably not, because most blue collar workers in Laos have a 7 day work week. But even if she only works 5 days a week (60 hours), that is about ten cents an hour, right? I do not want to support the people who are making money off of her loss of human rights. If we purchase products made under these conditions, we share the blame that they continue.
I usually try to avoid tangents in my review posts but I think the term sweat shop is glossed over and joked about in the United States, but it is real.
Please do shop mindfully; Taraluna encourages you to join them in "changing the world one purchase at a time" by buying fair trade, sweatshop free, organic, and natural.
Taraluna wants to give a special Christmas gift to one Mom Most Traveled reader!
One winner will receive there choice of up to THREE Christmas ornaments totaling up to $30!
To enter to win some fair trade Christmas goodness, simply visit Taraluna.com and comment on this post with another one of the holiday items that caught your eye.
One winner will be chosen at random.
This giveaway will close on Sunday, December 7th, 12 midnight CST.
*Contest ended! Congrats to clenna in NH, comment number one!!*