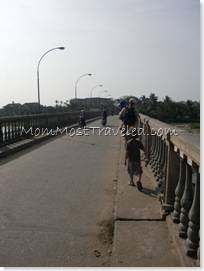 On our 3rd day in Hoi An, we were ready to get out and do something! We went to the Sleepy Gecko Chillout Bar to arrange a bicycle tour for the next day.
We had to cross the river on a bridge that is closed to cars and trucks.
When we got to the Sleepy Gecko (To 5 Thon Xuyen Trung, CamNam, Hoi An, Telephone +84 (0) 908 426-349), it was only about 9 or 10 in the morning so we had a nice relaxing brunch.
Fortuitously, Sleepy Gecko owner Steve has two daughters, each a little younger than Jojo and Deeds. They had a great time "playing billiards" together, and the food was good too.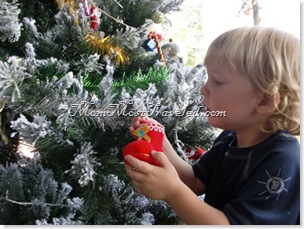 The place was still decorated for Christmas, as it was only December 30. Deeds liked the Santa Claus boot ornament.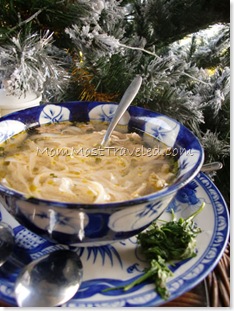 Jojo had pho with chicken, and the rest of us had western delicacies. Weary travelers will find some good western-style comfort food at the Sleepy Gecko, like meat pies, loaded baked potato, chicken fingers, and grilled cheese sandwich.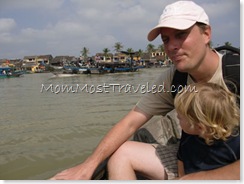 After a good meal and making arrangements for our half-day bike tour the next day, we took a boat back across the river.
Deeds is going through an independent phase where he isn't willing to hold my hand or be carried very often.
This being the case, we are usually found straggling far behind Papa and Jojo when we are out and about on foot.
This banana lady came up and insisted that I take her picture with Deeds, even though I told her "no money" (I really only had like less than $5 on me). She said "no money, okay" but then after the picture she knelt down, put some bananas in a bag, handed them to Deeds, and turned to me and said, "20,000 Dong".
I already knew she was going to do that (I should never have taken the picture! My spidey senses were tingling), so I just gave her the darn money and went on our way. I should have demanded more than 3 bananas though, and one of them had ants crawling out of a split in the skin!
Also in town, we checked on the cool Monkees-style boots we had made for Jojo at this shoe shop: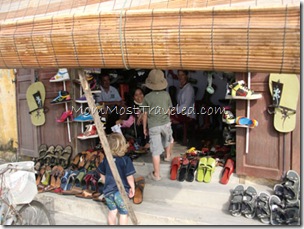 We went back to our hotel for nap time and then rented two bicycles and followed the "walking tour" outlined in our (outdated, 2003 version) Lonely Planet Guidebook.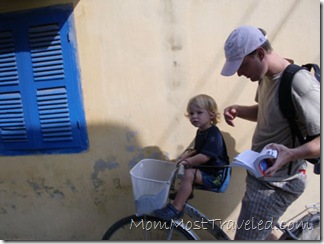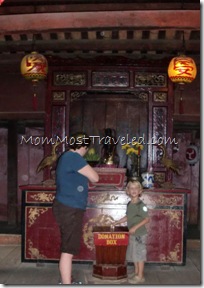 The Japanese Covered Bridge is an interesting piece of history, originally built in 1593. It is a covered bridge and has a small temple built into the side. Jojo wanted to drop some money into the donation box, and then of course Deeds had to do the same.
Sorry to the random tourist lady who didn't step out of our family photo.
The Chinese Assembly Hall we visited has been in use since the 1770's and had photos displayed of a visit from Jiang Zemin (China's leader from 1989-2002). I'm sure more details were written somewhere in a language that I can't read.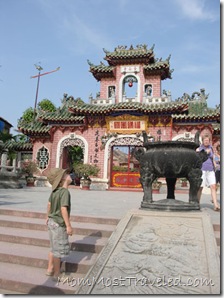 When we walked inside I was amazed at how much incense was hanging from the ceiling. And I wondered why they also had a no smoking sign posted? How would anyone know where the smoke was coming from?