My 3-year-old niece is staying with us for the summer, and the home front is anything but peaceful with 2 three-year-olds and a 6-year-old.
Seriously, do we have to fight over what color cup the water is served in?
Anyway.
In order to avoid a nervous breakdown (mine, not theirs), I'm up for anything that encourages harmony.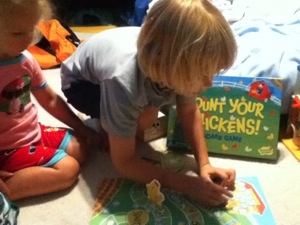 Such as? A cooperative board game. "Cooperative" means that no one wins, and no one loses, we all strive toward a common goal.
In Count Your Chickens!, 2 to 4 players ages 3+ help Mother Hen collect her chicks and bring them back to the coop.
Count Your Chickens!™ is stress-free, and a good way to practice counting and cooperation.
Estimated time to complete a game is about 15 minutes.
Count Your Chickens! was the 2011 Creative Child Game of the Year!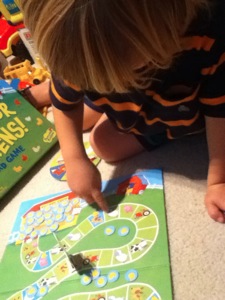 Learn more at http://www.peaceablekingdom.com/