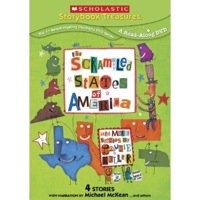 Looking for a DVD to teach geography, good manners, and dental hygeine?
What a combo!
Scrambled States of America is the story of restless states. The states decide to swap spots in hopes that each can get to see a different part of the country.
Other stories on Scrambled States of America are DO UNTO OTTERS (A BOOK ABOUT MANNERS), and OPEN WIDE: TOOTH SCHOOL INSIDE.
All three stories on Scrambled States of America arewritten and illustrated by Laurie Keller!
…
North Star & More Stories About Following Your Heart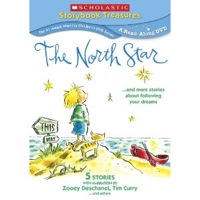 is full of inspiring stories that teach cooperation, friendship, and problem solving.
THE NORTH STAR is a classic storybook about lifelong learning, children of all ages will be inspired to navigate their full potential and follow their dreams.
Other stories on North Star & More Stories About Following Your Heart include THAT BOOK WOMAN, PLAYERS IN PIGTAILS, YO! YES?, and SWAMP ANGEL.
…
Guess what? One of my FAVORITE children's stories of all time is in Scholastic Storybook Treasures Video Collection.
Tikki Tikki Tembo…and more stories to celebrate Asian Heritage features Tikki Tikki Tembo, based on the classic picture book by Arlene Mosel, illustrated by Blair Lent.
Additional stories include:
The Tale of the Mandarin Ducks , Grandfather's Journey, The Stonecutter, Lon Po Po: A Red-Riding Hood Story from China, and Sam and the Lucky Money!
Visit www.newkideo.com to learn more about Scholastic Storybook Treasures!
…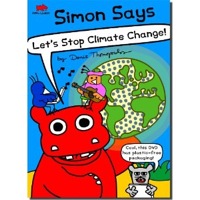 Simon Says "Let's Stop Climate Change!" is first animated DVD to tackle the issue of climate change for children ages 4 to 14.
Simon Says "Let's Stop Climate Change!" is an animated adventure that teaches  kids about Global Warming, the Greenhouse Effect, the Food Chain, Carbon Footprints, and eco habits like the "Three Rs" (Reducing, Reusing, Recycling), Composting, and Carbon Offsetting.
The DVD includes the animated film plus an introduction from the creator, bonus cartoons, an interactive quiz, film chapters correlated to National Science Standards, a 14″ x 19″ foldout wall poster, a 45 page eHandbook (with lesson plans, puzzles, coloring pages, sheet music, and more), Closed Captioning, Spanish translations, mp3s of songs, and wallpapers.
…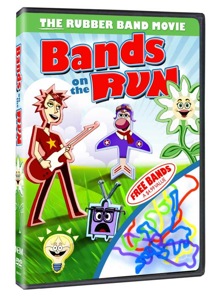 Have you ever seen a movie about rubber bands in a band? What? You haven't? Haha, loser!
BANDS ON THE RUN is about a group of those rubber band bracelets who are friends.
The five novelty rubber bands find themselves deserted after accidentally falling off the back of a delivery truck.
They seem lost until Edison, the brainy light bulb shaped band, blurts out a bright idea – "Follow that truck!" and, together Edison, Roxie (rock star), Daisy (flower), Ray (TV) and Amelia (airplane) – band together to make their way to the toy store and ultimately onto the wrists of happy children!

As an exclusive bonus, each DVD also includes ten limited edition bands featuring the loveable characters from the movie – a $5 value! Additionally, there are animated storyboards and the "Making of" featurette.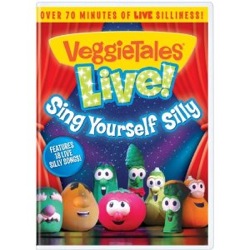 …
We have a few VeggieTales DVD's, and I have to say that they seem kind of redundant to me sometimes. I admit that I don't pay close attention to plots, but songs get recycled a lot.
Finally, there is something new, although it does involve old favorite VeggieTales songs.
Veggie Tales: Live! Sing Yourself Silly is the first Veggie Tales LIVE DVD!
Veggie Tales: Live! Sing Yourself Silly showcases 18 of the most classic and popular VeggieTales songs performed live on stage including "His Cheeseburger," "Love My Lips!," "The Hairbrush Song," plus a few hits from the 80's that both parents and kids will enjoy.
As a bonus feature, you get to peek behind the curtain on "Larry's Backstage Pass."
…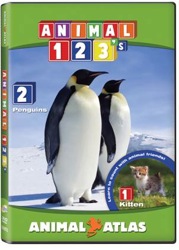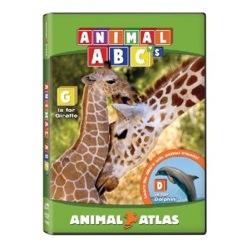 Animal ABCs and Animal 123s are a fun way to introduce children from age 2 to 6 to letters and numbers using the amazing animal kingdom!
Animal ABCs and Animal 123s also teach fun facts, unique songs and include a bonus sections with flashcards. Look for them from NCircle Entertainment, to be released July 12, 2011.
-Learn more about NCircle at http://www.EntertainmentThatEducates.com