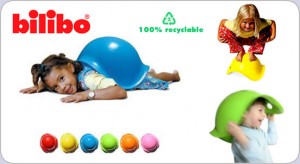 In my search for awesome toys (awesome= open ended, eco-friendly, and lots of play value for years and years and a variety of ages), I stumbled upon the Bilibo.
What is a Bilibo? That was my question, too.
Bilibo is a sculpted recyleable Polyethylene shell.
The brainchild of Swiss designer Alex Hochstrasser, Bilibo is shock resistant, non-toxic and encourages both active and imaginative play.
Bilibo is officially made for ages 2-7, but even I have stood on it and sat in it with no fear.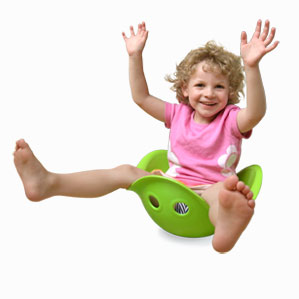 We were given one Bilibo from the store All Modern Baby, a modern children's furniture site that carries great products like Maclaren baby carriers and Stokke Tripp Trapp high chairs.
Jojo and Deeds found many ways to enjoy their green Bilibo.
They sit in it, sit ON it, stand on it, jump off of it, spin in it, use it as a "mountain" for toy animals and people to stand on (and slide down), use it as a "cave" for toys, a helmet, a turtle shell, a "bath tub" for dolls and toys…very multipurpose.
Because Bilibo is a fun way to spin and practice balance, it is a recommended toy for children with Sensory Processing Disorder.
You can also take it in the water (it floats, but is not a flotation device), sand, or snow with no worries.
I honestly have enjoyed the Bilibo so much that I bought a second one myself. Now we have a green and an orange. I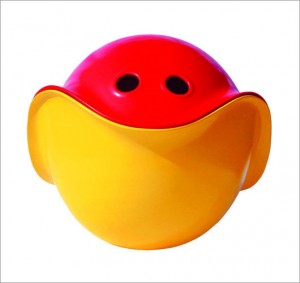 think they might be even more fun in pairs.
I want to let them take it into the bath, but I'm kind of scared of the waves and splashing that might ensue.
Bilibo was on the Dr. Toy 10 Best Active Products list in 2002.
You can get yours in green, yellow, orange, pink or red.