The weather is getting colder; soon we will be faced with snowy weather and darkness by 5pm. How do you plan to keep your little ones entertained when outside play isn't an option?
My "inclement weather play time" plan involves one of the most versatile toys on the market!
Connectables are a fantastic product from The Happy Kid Company, the same people that brought us the award-winning Fortamajig, which allows children to turn almost any area into a custom play space.
The ultimate in fort building, Connectables is an ingenious set of 6 multi-colored 33″ squares and 2 58″ long rectangles made from nylon ripstop and outfitted with adjustable loops and Velcro tabs.
Connectables is designed for ages 3 and older. My nearly 4-year-old son has no problem tethering the adjustable loops on to different anchors. I help him with the overall engineering of the fort.
I get as excited building with Connectables as I did when I was a child making forts with my brother out of blankets and boxes.
Connectables have lots of advantages over blankets and boxes, though! They are more durable (the boxes used to get torn up after a time, and we were only allowed to use the most threadbare of blankets for fort building), more versatile (you can tether them onto just about anything, indoors or out!), and more breathable (it used to get pretty sweaty inside of those box forts).
Even little Deeds always wants to help out, but being 13-months-old, his main contribution is dragging around panels and crawling around inside our fort once it was built.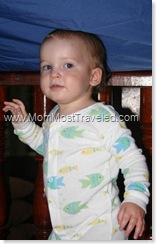 Children just love that feeling of being "hidden" securely in a small, safe place, don't they?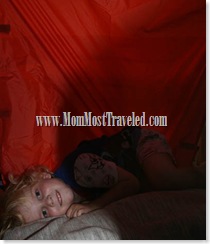 This is one of Jojo's genuine (not forced) smiles. He has such a fun time inside of his Connectables fort. He likes to bring his stuffed "pets" inside with him. He told me on this particular night that inside the fort was "Thailand", and outside the fort was "Candyland".
I couldn't decide if I would rather live in Thailand or Candyland.
A view through the roof:
Two adults and two children inside of this particular fort (Thailand, remember?), made from 4 of the square panels, one rectangle panel, three chairs, and part of a banister:
Another thing that makes Connectables mama approved: it has it's own storage bag that can be worn as a backpack. This would be convenient if your child wants to take Connectables outside for an expodition, or maybe to a friend's house to make a special hide out!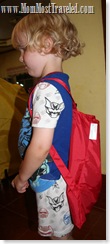 Portability and high play-value make Connectables my first choice for on-the-road entertainment. Connectables are just as fun in a hotel room, at grandma's house, and at the beach as they are at home!
When I first saw Connectables, I immediately thought of ways to use it while traveling.
I brought one rectangle and one square Connectables panel on board the airplane with us on our 17-hour international flight! (The rest of our Connectables were in our checked luggage, for fun on arrival!) Pictured left is my husband and boys enjoying their little tent. I belive this was hour 12 of our longest flight. If Connectables can bring fun to a 17-hour plane ride, what more proof do you need? As a bonus, one or our rectangle panels matched the interior of the Thai Airways plane.
My first idea for bringing Connectables as part of our carry on repertoire was to block the light from the in-flight movies so that my little ones could sleep undisturbed. But affixing the square panel to our seat and the seat in front of it to prevent Deeds from walking up and down the aisles all night was a great use as well. It was like an instant airplane baby gate!
I could not be more pleased with our Connectables, and I am not the only fan. This year, Connectables made Dr. Toy's List of the Top 100 Best Products! Even more impressive, Connectables were voted one of the 10 Best Active Products!
Connectables retail for $89.95. Those digits might cause some sticker shock for the frugal mama's out there, but consider what $89.95 is actually buying for you when you purchase Connectables:
6 multi-colored 33" squares and 2 58" long rectangles with extra loops for expandability.
can be arranged in an infinite number of configurations (mathematically speaking…)
a virtually indestructible toy
something that your children will enjoy for

years and years

pretty much forever (I admit, even I enjoy building with Connectables!)
encourages creative, open-ended, active play (isn't that the best kind?)
compatible with any kind of playhouse, table, chair, tree, or pillows you already own
actually useful (Great for a sunshade; make a little kiddie cabana on your beach umbrella! Block off a portion of your hotel room for the little one who goes to sleep 2 hours before everyone else. I can even envision this being a good "room divider" when my boys are old enough to want personal space. Stay on your side!)
extremely, unequivocally FUN
Wouldn't Connectables make a good "family gift" for Christmas? (Way better than matching sweaters.)
Maybe a gift from a grandparent to ALL of the grandchildren to enjoy playing with together?
The fort in these pictures stayed up for 8 days. We had lots of adventures with it, and added a tunnel and a school bus tent that we already had to make it very sprawling and mysterious. I loved watching baby Deeds crawling around inside, squealing with delight. Jojo and I shared a few snacks and quiet moments in the fort, in between periods of general rambunctiousness.
I'm looking forward to thinking of more uses for our Connectables. They will be going with us to Chiang Mai, Thailand, in February!