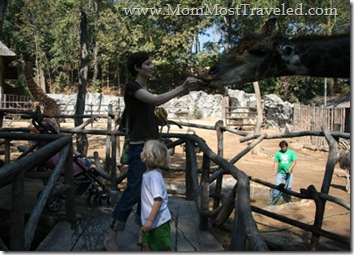 At the zoo in Chiang Mai, Thailand, you can buy bunches of raw string beans and bananas to feed the giraffes.
I love giraffes and it is amazing and unnerving to be so close to them.
They are absolutely enormous. From this picture you can see that this giraffe's skull is probably about 30 inches long!
I laughed when I looked at these pictures later, because in my zeal to feed the giraffes, I seem to have just kind of pushed Deeds out of the way (see his feet languishing in the stroller behind me).