I have been looking forward to this week for ages! This is a special week of fun and giveaways just for the ladies!
It is fun to win stuff for our children, but how about pampering yourself for a change?
True, I'm kicking things off a little early, but I just couldn't help myself! And since today's giveaway is for a BabyG watch from Casio, I thought it would help you to be on time for the festivities on Monday!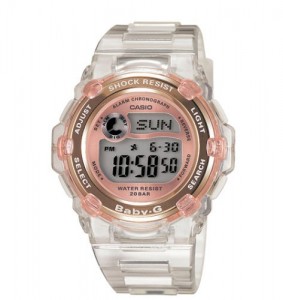 This is the Casio Women's Baby-G Slim Marine Watch #BG3000-7B
. I was so excited to get to try this quality time piece because of the laundry list of features this little baby offers!
The Casio Baby-G Slim Marine
is shock resistant and
water resistant up to 200 meters! I think this is important for my lifestyle, while though I will never, EVER go 655 feet under water while I am still living (quote me on that), I at least need a watch that can survive multiple hand washings, splashings, and "oops-es" that come with parenting toddlers.
The best feature for the world traveler is the World Time feature, with quick-access to 29 time zones (30 cities), city code display, and daylight saving on/off (did you know that there is no "daylight savings time" in Bangkok? It's true).
World time capability gives you the peace of mind that you'll always know what time it is, even if you've traveled halfway around the world.
I'm also happy to have the Auto Calendar (pre-programmed until the year 2099), which means I don't have to bother with it!
Even better, the battery life on the Baby-G Slim Marine Watch
is about 3 years!
While being extremely functional and high-tech, this watch also looks "grown-up".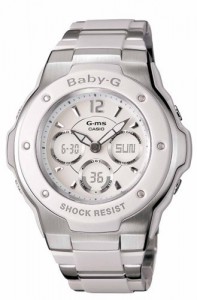 I also got to take the Casio Women's Baby-G G-MS Cool and Tough Ana-Digi Watch #MSG300C-7B1
for a test drive. That is a doozie of a name, but this is one hip timepiece!
I got many compliments on my Baby-G G-MS
when I wore it to a work-related conference. I was really walking tall, but the Baby-G G-MS is more than just a pretty face (I just made a watch pun!).
The look of the Baby-G G-MS is truly, as Casio puts it,
"the perfect balance of metal and resin composite design for an elegant yet sporty look"!
There is so much to love about this watch, from the stylish, stainless steel bracelet band with a double push-button safety, to the three digital sub dials that let you reference the day, date, and passing seconds with a quick glance.
The Casio Women's Baby-G G-MS Cool and Tough Ana-Digi Watch #MSG300C-7B1
also has World Time, featuring 48 cities, five daily alarms, and a countdown timer.
Would you like to win your very own Women's Baby-G Slim Marine? (It comes in your choice of four colors!). Casio is generously giving one away to a Mom Most Traveled Tea Party guest!

To enter, visit Casio and comment here with another timepiece that catches your eye!
One winner will be chosen at random.
*Contest closed! Congrats to Gloria Castaño! Her comment was,

"I love the MSG300C-7B2… very stylish and highly functional. Besides, having 2 children that get into just about everything, I'm constantly washing my hands as well as theirs… and I am not very good at remembering to take off watches, rings, and things of that sort!"
Winner did not respond to email notification. Second winner selected: *Congrats to Psychmama!*