I am going to BlogHer '11 this August in San Diego and I couldn't be more excited. Yesterday I was doing my weekend prowl around the blogosphere and stumbled upon a contest for a chance to win a STYLE SESSION at BlogHer '11 with some of my favorite fashion-savvy blogging mamas.
The idea of a Style Session strikes a chord with me.
In the last two years, I have become more "myself". Two major things have happened since 2010:
-I turned 30.
-I magically grew a back bone.
These two developments have influenced every area of my life.
Before I turned 30, I had become used to being treated as incapable. Not good enough. Stupid. Inconsequential. Ridiculous. Always wrong.
Things came to a head and I was at a breaking point in both my personal and professional life. Something was going to snap. And it did. In a good way.
I started to realize that I wasn't the one with the problem. These people were sick and I was allowing them to treat me according to their twisted perceptions and unhealthy sense of entitlement.
I stopped trying to please these critics who would never be satisfied anyway. If I did everything wrong anyway, why bother? It was freeing.
I went to a professional development workshop where people asked me about what strategies I had used for certain obstacles. They excitedly wrote down my ideas. I saw that I wasn't an idiot as I had been made to feel.
I started to pay attention to the way I felt. For the first time since Deeds was born, I began to exercise regularly. At night, in my home, with DVD's, after the kids were in bed. Though weight loss wasn't the goal (I just wanted to follow the prescribed "30 minutes, 5 times a week"), my body began to change shape, and I liked it.
I discovered a dairy sensitivity and cut it out of my diet. A lifetime of problem skin began to clear up. I cut gluten out of my diet. I began to eat a high raw vegetarian diet. My skin looked kind of awesome.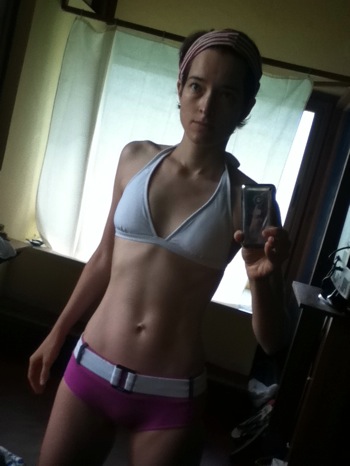 I went to dEliA's. Yes. dEliA's, a store for tweens. No not the skanky one, you might be thinking of a different store. I tried on skinny jeans. The teen sales associate told me how good they looked on me. I know it is her job, but I totally agreed with her.
I bought skinny jeans. When I was 30. I spent my teen years in oversized clothing. It was the 90's but I could have been way cuter.
I'm actually way healthier than I was 15 years ago. I never would have believed that after two kids, I would be in the best shape of my life.
As such, I'm a relatively new fan of fashion and style. Trying on clothes and playing with different looks is a blast now that I have the positive self image to match.
As a teenager, I thought that life was pretty much over when you hit 30. Actually, I'm really excited about what the future might hold.
My biggest fashion and style challenge is
1.) I'm like a frackin' kid in a candy shop. I don't want to end up looking like Punky Brewster. Unless that is in. Is that "in"?
2.) I was an expat in Asia for 9 years and I don't know the difference between Asia-tastic and fashion. Asia-tastic involves lots of ruffles and sequins. I lurve sequins!
Style me. I'm yours.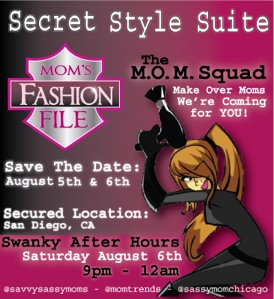 Moms Fashion File will be attending BlogHer in San Diego, will you?

Moms Fashion File ( a fashionable collaboration between SassyMomsintheCity, SavvySassyMoms and MomsTrends) will be hosting a very special style suite where we will be conducting a limited number "Style Sessions" for some very lucky bloggers!   If you would like to WIN a "Style Session" in the suite here is what you need to do!

Style Session Submissions:
1.  Write a blog post on your blog telling us why you are in desperate need of  a "Style Session" with Moms Fashion File and our secret agents.

2.  Share some of your biggest fashion/style challenges.

4.  Tweet/Facebook "I want to WIN a Secret Style session at #blogher11 from @momsfashionfile"  *Leave a comment here telling me you did so!