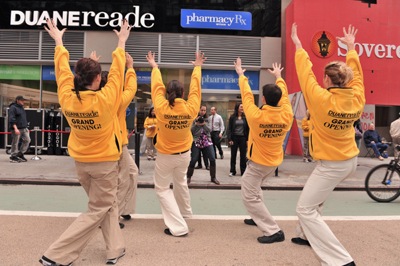 If you haven't been to New York City, chances are that you haven't been initiated into the magic that is Duane Reade Pharmacy.
The Magic comes from all of the amazing amenities contained within the various Duane Reade stores.
Depending on the location, a given Duane Reade could have a Photo Kiosk, Digital Photo, Film Processing, Skin Wellness, Moneygram, Blockbuster Kiosk, Look Boutique, Walk-in Clinics, Fresh Food, Growler Bar, or Sushi bar.
Duane Reade currently has an open call for 10 NYC-dwelling VIP bloggers to partner with for 2012. This is exciting to me because, to be honest, I think Duane Reade is awesome and I wanted to visit all of the super cool locations anyway.
As a VIP blogger, I would have a legitimate reason to trek out to the Chelsea Duane Reade and eat sushi. Otherwise, I might have to just do that in secret and not tell anyone, lest they judge me for spending my free time exploring a hyper-local chain pharmacy.
In this video I tell the story of how Duane Reade was a part of my initiation into New York City living.
The first time I ever flew to New York, my ear drum ruptured as the plane was landing. I had to make an emergency clinic visit, and then stumbled around Manhattan confusedly until I finally found a Duane Reade where I could get my prescription filled.
That was my first time.
Initially I was wary, because Duane Reade was new and different. But, I had nothing to lose, except my consciousness if I continued to wander around confusedly on that hot summer day.
At the moment, I wasn't ready to appreciate all of the Duane Reade perks and extras, but they took care of me in my time of need, and I will never forget that.
I work in Murray Hill, and I live in Clinton Hill.
That might sound intimidatingly hilly (it is 95% less hilly than the Appalachian foot hills wherein I was raised), but it means that, wherever I am in my normal daily routine, one of the over 250 Duane Reade locations is within easy striking distance.
My Personal Duane Reade Bucket List includes these tasks:
-obtain my workday lunches from Duane Reade, every day for one week
-obtain perfectly manicured nails using only Duane Reade supplies
-eat Duane Reade sushi
-celebrate holidays, both large and small, using supplies from Duane Reade
-make appropriate use of the Growler bar
-take weekend field trips to all of the super special Duane Reade locations, including the new Chelsea locale, the Broadway at 35th street locale, the Bedford Ave store in Williamsburg, and the flagship store in Union Square.
-buy an eco-friendly bamboo cutting board (hey…I didn't say all of the tasks had to require a lot of effort or anything).
I hope to lead you as your fearless Duane Reade VIP in 2012!
Think you have what it takes to be one of ten Duane Reade VIP Bloggers? Enter now by writing a blog post telling us why you love Duane Reade and why you should be chosen to be a 2012 Duane Reade VIP Blogger. As a VIP Blogger you'll receive:
$200 in Duane Reade gift cards per month
Exposure from Duane Reade via Facebook and Twitter.
Exclusive knowledge on Duane Reade promotions and products
Opportunity to be featured in the Duane Reader, the circular and new website.
Opportunity to attend executive level meetings
And much more!
As a VIP Blogger, you'll be expected to write up to 2 blog posts a month, share content via Twitter and Facebook, and participate in corporate meetings, in-store events, and serve as a brand advocate.