I read VORACIOUSLY as a child. In 4th grade we kept a reading log and I read 114 books that school year. I read every single Beverly Cleary book and every single Judy Bloom book, dozens of Boxcar Children books and all of the Little House on the Prairie series.
Later when I was an adult, DVD's were invented (it was madness!) and I was able to purchase every season of the Little House on the Prairie show from Sam's Club, and I took them with me to Asia because there wasn't any English TV channels besides BBC World News.
Me and the Ingalls family are so tight. It is because of Laura Ingalls Wilder that I'm always tempted to put an orange and a penny in the kids Christmas stockings. That wholesome 'Ingalls family' feeling is what I aspire to on the holidays.
But you can do your kids one better this holiday. If you have a 'Little House' fan, look at these new dolls!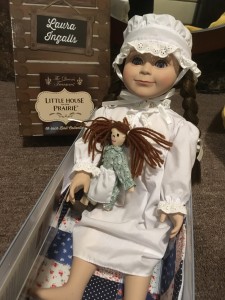 The officially licensed Little House on the Prairie Laura Ingalls 18" Doll, exclusively made by The Queen's Treasures and available online at TheQueensTreasures.com and Target.com for $99.99.
It comes outfitted in nightclothes, and a night cap. The Laura Ingalls doll has her own little rag doll, a quilt, and a pillow. It fits nicely in the box that she ships in, so the play value is really high with just the purchase of the doll.
A full-line of accessories (like a rustic doll dining set) can be found at TheQueensTreasures.com
You can enter to win the complete collection ($700+ value) as well as the complete Little House on the Prairie DVD set ($100+ value) and Laura Ingalls Wilder documentary ($20+ value)!
Enter here by the end of the day on Thanksgiving:
If I am making you nostalgic, www.littlehouseontheprairie.com has educational resources about Little House on the Prairie including a historical timeline , articles,  crafts, and recipes. Please teach your children ALL of the pioneer skills and values.
 This doll was provided to me because of my superfan-ness in exchange for my honest gushing.