California Wines, they're unforgettable, daisy dukes, bikini on top!
I am fortunate to be test driving a California Wine Club gift membership. As a 3-month member of the Premier Club, I get 2 bottles of wine per month in May, June, and July.
The wines are delivered via FedEx, replete with this advisory: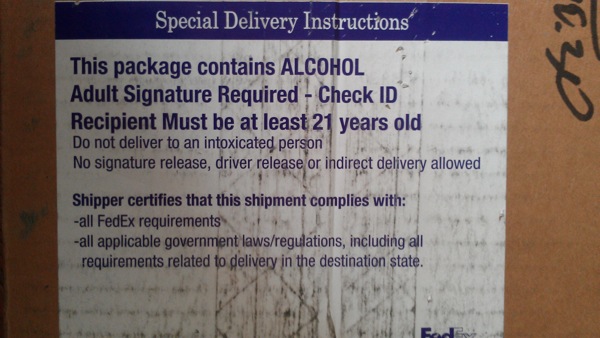 The wines are expertly packaged in styrofoam tubes. Mine arrived safely. Also in the package was an issue of Uncorked magazine and various promotional materials.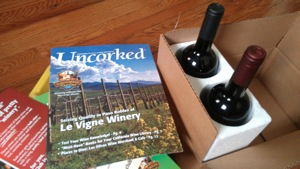 My 3-month Premier Club membership (a $150.00 value) gets me two fabu bottles of wine each month. 
I totally prefer this over the "walk of wine shame". This way I can consume wine in secret. Heh heh. 
In May, I got 2 different award winning Kiara wines. The Zinfandel enjoyed with a special someone as a pre-dinner aperitif, and the Carbernet Sauvigmon I bartered with a friend in exchange for a night of babysitting. 
Just sayin.
Both of the Kiara wines had stickers on them indicating they were award winning. The Cabernet Sauvignon apparently took top honors by winning both a Silver AND a Bronze, whilst the Zinfandel won a lone silver medal. 
New club members or gift givers will get 4 bottles for the price of 2 when they sign up using code TRAVELED12 at checkout!
There is no obligation to continue after the first month!
Check out The Boring Wine Guy on Facebook, and, California Wine Club on Facebook, too!
This review was made possible by Mom Spark Media. Thoughts are my own.