If your kids like Star Wars as much as mine do, you are probably wishing there was more licensed Star Wars stuff out there for you to buy/that they can beg for.
Well we are in luck because GUM has new licensed Star Wars toothbrushes! Woohoo! They are super cool, too.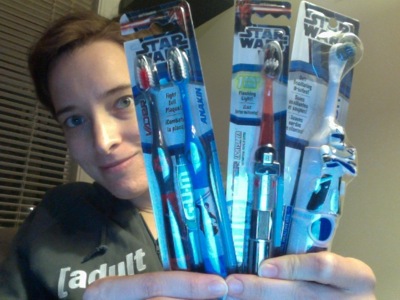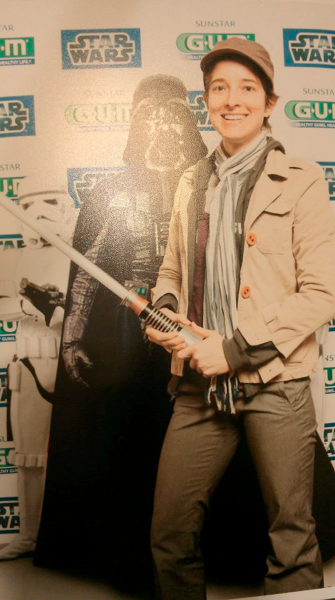 The GUM® Star WarsTM LightsaberTM Toothbrush is lightsaber-shaped and flashes for 60-second intervals to help train kids to brush longer and ensure better oral health.
Available in three character designs, color-coordinated lights illuminate the entire brush in colors specific to each character's lightsaber: blue for Anakin Skywalker™, green for Yoda™ and red for Darth Vader™.
· GUM® Star WarsTM Power Toothbrush comes in both Darth Vader™ and Clone Captain Rex™, is a battery-operated power toothbrush features ultra-soft oscillating bristles that gently massage gums and teeth.
The best value award goes to the GUM® Star WarsTM Manual Toothbrush Twinpack, available in Anakin Skywalker™, Yoda™, Darth Vader™ and Clone Captain Rex™designs, you get 2 brushes for $2.99. BaZinga!
AND you have two more days to enter the GUM® Brush Like a Jedi™ sweepstakes!
Visit the Facebook page to enter!!

Grand Prize: A trip for a family of four (two adults, two children) to Star Wars™ Celebration VI in Orlando, FL, August 23 – 26, 2012. The four-day package includes Celebration VI passes, travel and accommodations. For more about the event, visit www.starwarscelebration.com.
Daily Prize: A prize pack of GUM® Star Wars™ toothbrushes – before they are available in stores. The complete line will not be in stores until Spring 2012, but winners will be the first to get their hands on these brand new toothbrushes! See the Official Rules for a complete description of prize packs.
Winners will be notified by email.
Sponsored by: GUM®
Find GUM® online:
Facebook: http://www.facebook.com/gumbrand
YouTube: http://www.youtube.com/gumtoothbrush
Web: www.GUMbrand.com