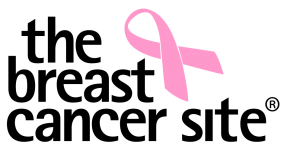 Its October, a time when we see a lot of PINK in the name of Breast Cancer Awareness! I know I enjoy seeing pink incorporated into NFL uniforms. Its kind of like a "Where's Waldo" color hunt for me.
The Breast Cancer Site is sponsoring a giveaway to support and promote Breast Cancer Awareness Month!
The Breast Cancer Site helps fund free mammograms for women in need. Early detection is so key to the survival rate of people with breast cancer, and people of low socio-economic status are often forced to prioritize daily, immediate expenses over long-term things like preventative care. The free mammograms for women in need have increased survival chances in low income communities.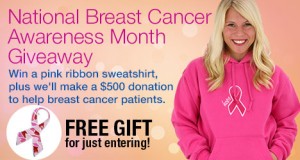 A fun and easy way to help support the Breast Cancer Site is to enter their giveaway, and shop in their online store!
Celebrate National Breast Cancer Awareness Month with the Breast Cancer Site! Enter your email address today for a chance to win a FREE Embroidered Hope Pink Ribbon Hooded Sweatshirt, plus we'll make a $500 donation to help provide treatment for breast cancer patients. Nine runners-up will each also receive a sweatshirt, and everyone gets FOUR FREE "Pink Ribbon Army" pins* to wear and share.
The Breast Cancer Site launched in October 2000 and is a leader in online activism.
You can also shop at the Breast Cancer Site Store for pink ribbon merchandise to help fund mammograms and research! For each item purchased, 3% to 50% of the item's retail price will be kept aside to be granted to our charity partners through GreaterGood.org.
*Shipping & handling apply to the offer.
Enter today for your chance to win!