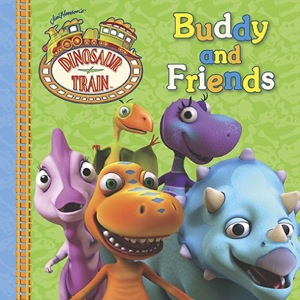 My 6 year old son, Jojo is a VORACIOUS reader, so I'm always looking for interesting and age-appropriate books for him.
When asked, he said that his favorite books are Indiana Jones and Zac Powers. So he has an appetite for adventure and also an interest in science.
We got the chance to check out three new titles based on the Dinosaur Train TV series.
Buddy and Friends board book designed for ages 3-5, but probably has the most appeal to the lower end of that age range.
Buddy and Friends is an introduction to all of the Dinosaur Train characters. Retail price: $5.99.
A Surprise for Mom! is a picture book for ages 3 to 5 about Buddy and his siblings planning the best gifts ever for their mom, Mrs. Pteranodon. Retail price $3.99.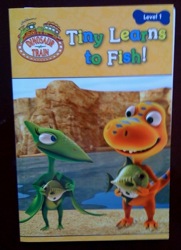 Tiny Learns to Fish! is actually a level one READER in the Dinosaur Train program.
In Tiny Learns to Fish!, Mr. Pteranodon takes the kids to the big pond to teach them how to fish, but Tiny can't catch a fish, and Buddy can't fly! Team work is the only solution! Buy it for $3.99
Catch Dinosaur Train on PBS! Learn more at http://pbskids.org/dinosaurtrain/