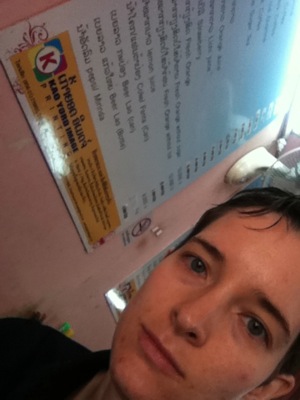 Yeah I said it.
Body hair.
My nemesis since the 5th grade, when my Sunday School teacher referred to girls as "chickapoos" and boys as "hairy legs".
Except, I didn't shave my legs yet. Every Sunday I worried that he would spy the untamed leg hairs poking out of my stockings.
He never did, of course, because he was like a 45 year old man and I was a 11 year old girl in a Sunday School.
The next time I remember being mortified about manly body hair was when I was a senior in high school. I was on the soccer team, and one game I was on the bench (just resting, just resting!) and my team mate looked at me and said "Why do you have two LONG BLACK HAIRS GROWING OUT OF YOUR NECK!?"
I was all "What, gross! Get them off of me!"
She did. I religiously checked my neck every day in the mirror after that.
I battled hair with Nair, tweezers, razors, and even sticky tape.
Then on New Years Day, 2010, I found myself in Vietnam.
I thought, Vietnam probably has awesome spas, because in America, a lot of the spa workers are Vietnamese.
See my logic? Flawless.
So I thought, this is a new year. New Years Day. Do you know what you should do, self?
Self: No! Tell me, brain!
Brain: You should totally get your first bikini wax! On New Years Day! In Vietnam!
Self: Oh, hulls yeah! Great idea!
So, early that morning, lets say 9-ish, I set out for a NEW BEGINNING.
I started my spa visit with a pedicure. I should have noted a huge red flag when the girl made my toe bleed while pedicuring me. I'm a total wuss and got a little lightheaded.
I didn't think about the fact that if this spa can't be trusted with toes, how can they be trusted with my nethers?
But, onward!
After the bloody painicure, I went to a different room upstairs. This room featured a STAINLESS STEEL EXAM TABLE, not unlike the ones at a veterinarian.
The lady put plastic down on the table, and first started trimming My Area with scissors. hair was flying all over the places, it was like a scene from Edward Scissorhands. Then she put on the hot wax.
I guess she thought I looked uncomfortable and that the wax was too hot, because she leaned down, put her face near my crotch and started BLOWING ON IT TOO COOL IT OFF.
I absolutely wanted to disappear/die.
Yes.
Worst moment of my salon life.
I put my elbow over my eyes and tried to pretend I was somewhere else.
Not only that, another salon worker stuck her head in the room in mid-wax to ask my waxer about lunch.
Don't mind me. I'm just here getting waxed, spread eagle on a stainless steel table.
After the wax I was so traumatized I couldn't look anyone in the eye. I went for a bicycle ride and took myself out for coffee before returning to my family.