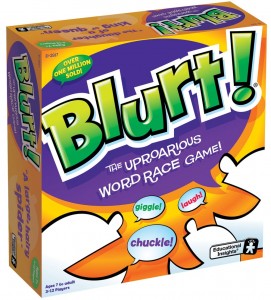 I love games! Blurt! is right up my alley; easy to play for a wide range of ages and language abilities, not technical in the least, and often hilarious!
Blurt! is all about thinking fast: be the first to shout out the correct word that accompanies the definition read aloud on the card to earn the right to advance your token around the board.
There isn't a penalty for "blurting" out the wrong answer, so things can get a little crazy (and noisy!).
There are a total of 1800 different clues of varying difficulty, so this game stays fresh for a long time!
The first player to make a complete circle around the colorful jumbo game board wins!
Blurt! can be played with 3 to 12 players and is recommended for players ages 7 and up.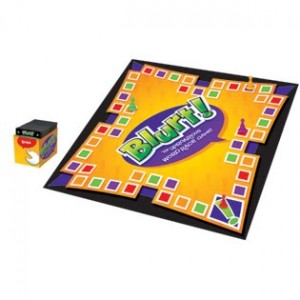 Since I have studied 3 foreign languages, have two preschoolers, teach preschool by day and have taught ESL for many years, there are plenty of times when I can't think of a simple English word. (Hand me that…you know…the…what do you call it?…Keys!) Moms, can I get an "amen"?
The human brain is a mysterious and wonderous thing, and also sometimes a fickle friend.
The clues in "Blurt!" aren't that tricky, you are trying to match words like "rasin", "seatbelt", and "fin" to their proper definitions. The hard part is that rapid recall aspect!
Besides being tons of fun, Blurt! is great exercise for your mind and would be fun learning game, especially for older elementary or ESL students.
Even my husband, who is a math and physics teacher, can really get into a competitive game of Blurt!
Blurt! gets two thumbs up from me for a fun after-dinner game for those of us who don't like trivia or war-based board games (I know there are more of us out there!).
Thanks, Playmakers, for my complementary Blurt! game!