In 1966, the rising Mekong flooded the city of Vientiane, Laos.
In August, 2008, the Mekong did it again.
It had rained constantly for two weeks, but the problem began far north of Vientiane, in China.
Attempts to control flooding and runoff through dams and channeling resulted in a problem in Southern China in August, 2008. I don't know the details but I know that they ultimately decided to open the dam, resulting in a surplus of water snaking down the Mekong delta.

It was a frightening sight to see.
Large trees and garbage were pulled down the river with the current.
The large boat that runs a dinner cruise on the river was floating flush with the land.
In the dry season, the water is so sparse and the river so narrow that you can almost walk across the river bed to Thailand.
There are 30-40 foot banks on either side of the river that struggled to contain the massive amount of rain water.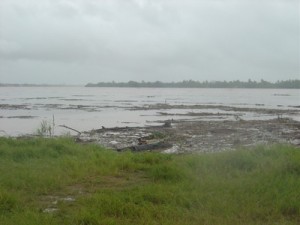 I wrote this post for Blog Action Day 2009. I don't know a lot about climate change, as I am not a meteorologist, ecologist, or scientist of any kind, but I do know that the world is changing.
Being in the path of an unstoppable force of nature is terrifying.