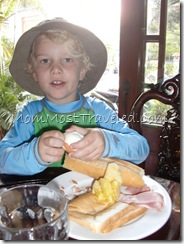 On New Year's Eve we did a half-day bike tour with Sleepy Gecko Byke Tours in Hoi An.
We had visited the Sleepy Gecko Chill-Out Bar the day before and I was excited that the owner was a family man who even had child seats that we could use on the bike ride!
We started out with breakfast at the hotel. I took this picture because it amuses me that Jojo eats hard boiled eggs. I never liked them.
I suited up the boys (even my hubs) in UV Skinz shirts and tried to make them wear sun hats, which worked some of the time. I wore my lucky red sun hat and a coat to cover my arms.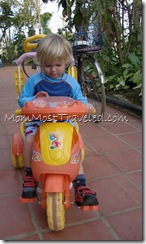 We rented bicycles to bike to the Sleepy Gecko (biking to the bike tour, we just wanted to be overachievers) and when we arrived Deeds found the bike he wanted to use!
Sadly for Deeds, the plastic tot's bike wasn't one of the options for our ride. He wasn't sad for long. He loves anything with wheels.
It was so refreshing to get out on the bicycles, being able to digest the scenery at my own pace with pleasant narration from our knowledgeable guide Steve.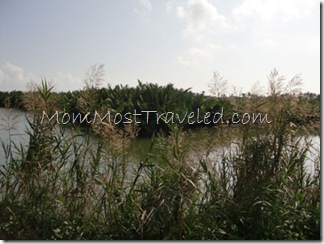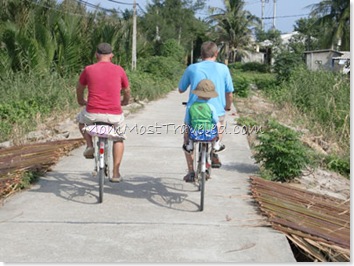 We went at our own pace and stopped whenever we saw something interesting.
In this picture we stopped to look at an interesting bamboo house near the road, and Steve is showing Nick one of the local fish traps.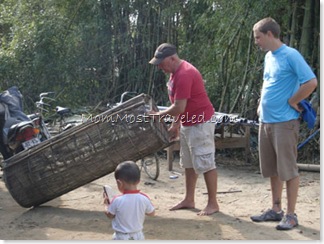 We saw animals along the way, like ducks, cows, water buffalo, and a big flock of (cranes or egrets, sorry I don't know the difference. White birds with tall legs).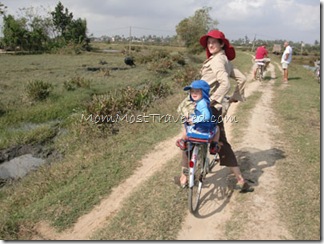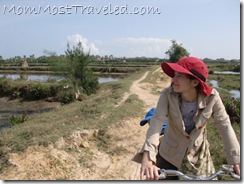 We rode over a small bridge or dam or something where some men were fishing with a net. We watched them cast the net and then pull it up to retrieve a few very small fish, which they put into a plastic bag.
Jojo saw them picking up the fish and asked if he could hold and touch a fish as well. So he did. Then of course Deeds had to do it too.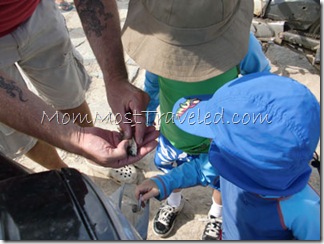 After three hours or so, Deeds started to give out. He dozed off when we were minutes away from arriving back at the Sleepy Gecko Chill-out Bar.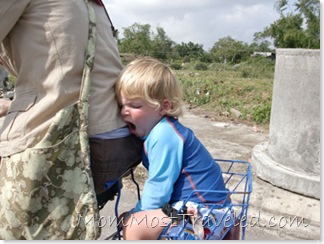 I was hoping we could lay him down in while we enjoyed some lunch, but he perked back up once we stopped moving. We ate and talked and relaxed and played and laughed at the Sleepy Gecko for a few hours.
It was a beautiful day and a happy memory.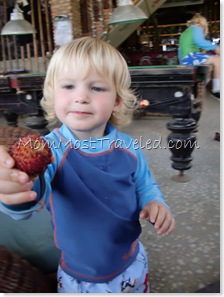 Hoi An was a place that I didn't really want to leave, and I hope we can go back again some day.