Many people, including adoptive parents and even medical nurses, are surprised to learn that it is possible to nurse an adopted child.
Each adoptive mother who has nursed their child has their own unique story.
I have personally known two adoptive mothers who have successfully nursed their children. In these cases each had had children biologically at a previous time, and was able to re-lactate to feed the new baby.
Moms who haven't previously lactated can also nurse an adopted baby; you could google "adoptive nursing" and find all sorts of personal stories.
Medela even sells a supplemental nursing system that allows moms with a low milk supply to nurse their babies and supplement with formula at the same time. Many adoptive moms find this to be helpful as they establish their milk supply.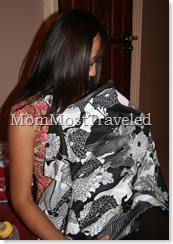 Kay, mom of 4 and owner of the online store MyPreciousKids.com, successfully nursed her daughter, whom she adopted at birth.
Kay shares here about how she was able to build up her milk supply to in order to nurse her new daughter, even though it had been 13 years since she had lactated.
Kay donated a BeBe Au Lait nursing cover to an adoptive family, and she is also sponsoring a giveaway for Mom Most Traveled readers, on behalf of her store MyPreciousKid.com!
The BeBe Au Lait nursing cover is the original nursing cover! It has an opening at the top with a stiff trim that creates a "window" so that mom can look down at baby, and baby can have some airflow.
The BeBe Au Lait nursing cover is made with appealing and fashionable prints, and also has a terry cloth panel that is perfect for cleaning up spit ups, and drools.
Many moms find other uses for the BeBe Au Lait, such as using it for a light blanket or as a drape to protect baby from the sun in a stroller, infant seat, or front carrier.
To enter for your chance to win a BeBe Au Lait nursing cover, visit MyPreciousKid.com and comment here with another product fromt there store that you would love to have!
You can enter once per day, with an original comment each time.
One winner will be chosen at random.
This giveaway is open to US residents.
This giveaway will close on January 25, 12 midnight CST.
*Congrats to Kathy Pease!*