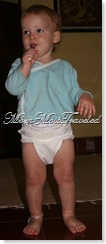 As a mom, I am always fascinated with cultural differences in parenting.
In Laos, there isn't a mind-numbing variety of "must-have" baby items like in the U.S. In fact, when Jojo was a four months old, his first car journey in Laos drew a crowd of neighbors.
As we were getting ready to leave, my neighbor said, "How are you going to hold the baby AND drive?" So, I showed her how Jojo had his own special safety seat for riding in the car. She promptly called out to the whole neighborhood, "Hey, come look at this! Jonas has his own special seat!"
I have never known a mom in Laos to be given a baby shower; usually, some time after the baby is born, relatives might give a few small gifts like clothes, money, and jewelry.
In Thailand and Laos, many babies wear beautiful silver anklets with bells on them. Far from being merely ornamental, the tinkling bells help caregivers to know where the baby is at all times.
Bumble Bells sells these swanky, functional anklets in the USA, and I was so excited to have the chance to have one for baby Deeds.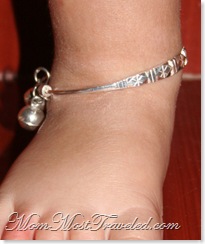 Deeds looks totally cute in his Bumble Bells; I wish that I had a pair for myself, too!
We don't have a baby monitor in our house, and one unexpected benefit of having a Bumble Bells baby is being able to hear him jingling around in his bed when he is awake but not crying.
I can also tell if he has fallen asleep yet or not, when I have laid him in bed awake.
Bumble Bells truly are the original baby tracking device !
Deeds has been wearing Bumble Bells for over a week, and he hasn't been bothered by them or tried to frantically rip them off.
Our Bumble Bells are easy to put on; the circle expands wide enough to slip the anklet over baby's heel without any wrestling.
The anklets come in two sizes (NewBee, for ages 0-9M and Worker Bee, for 9M-4Years).
The tinkling bells are a pleasant sound, especially in the quiet house when Jojo is at preschool and Deeds is toddling around, busy with his toys.
As delicate as they might appear, Bumble Bells are very strong and the wee bells do not come off. They are made from sterling silver and are ASTM-certified for safety.
You can hear Bumble Bells in action in this short video (our neighbors were playing loud party music, so it is a nice free soundtrack):

A portion of every Bumble Bells purchase goes to support Head Start, a nation-wide school readiness program in the US that provides comprehensive education, health, nutrition, and parent involvement services to low-income children and their families.
Bumble Bells are $45 for one anklet or $75 for a pair. Nothing could be cuter on your little one at a party, photo session, or any time!
Bumble Bells is happy to offer a discount to Mom Most Traveled readers!
Use coupon code 112080807 for 15% off an order!