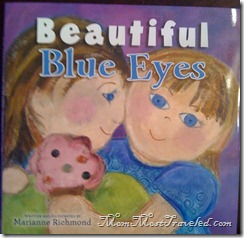 I remember looking into my newborn babies' eyes during moments of quiet alertness.
It always made me smile and my imagination would come up with theories about what thoughts might be in their little newborn brains.
I remember waiting and wondering if their eyes would change color from that deep newborn blue-black. Both of my children have beautiful blue eyes.
Marianne Richmond transforms that moment of seeing her child's blue eyes into a touching story in her new book Beautiful Blue Eyes (Sourcebooks Jabberwocky).
"I watched, and I waited
as your eyes chose their hue,
deciding in time 
on their beautiful blue.
Blue as a butterfly
or the sparkling sea.
Blue as the bluebird
who sings in her tree."
Beautiful Blue Eyes is a sweet book to share between parent and child.