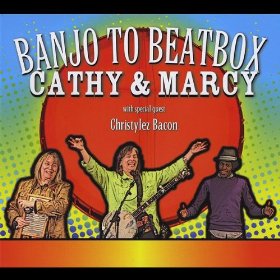 A children's CD that covers everything from Banjo to Beatbox? Yep!
Banjo to Beatbox, a new release from Cathy & Marcy delivers clever lyrics, astounding feats of human beatboxing by Christylez Bacon, and some impressive washboard and banjo skills!
Banjo to Beatbox is a fun CD for ME to listen to! I love the potpurri of instruments and beats that each of the eight songs on Banjo to Beatbox bring to the party!
My personal favorites are It's the Beatbox (Feat. Christylez Bacon), which will no doubt inspire you to do a dorky mom attempt at beatboxing, and Syncopated Washboard Rhythm Song, which makes you want to do the Charleston, watch a silent film, or something else extremely nostaligic.
Folk meets hip-hop? Banjo to Beatbox does it, and does it well!
Banjo to Beatbox will be released tomorrow, June 9th, on CD, but you can download the entire album in MP3 form at Amazon right this minute!
Visit Cathy & Marcy's website for more of their great recordings, or go have a listen to some MP3 samples at Banjo to Beatbox.
Which track was your favorite?