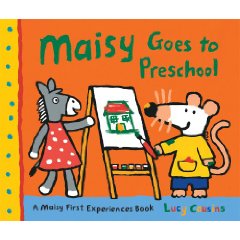 This year, Jojo will be going to 4K preschool every day! I found some fabulous books from Candlewick press to help him get excited about heading to school.
Maisy Goes to Preschool: A Maisy First Experiences Book is a colorful and upbeat picture book that 4-year-old Jojo really enjoyed.
Best for children ages 2 to 5 years, each page of Maisy Goes to Preschool features familiar scenes from an average day at preschool.
Maisy and her friends enjoy painting time, quiet time, and LOUD TIME! A fun read for parents and preschoolers!
I can see children asking for Maisy Goes to Preschool by Lucy Cousins again and again, enjoying the parallels between Maisy's school day and their own.
I was expecting another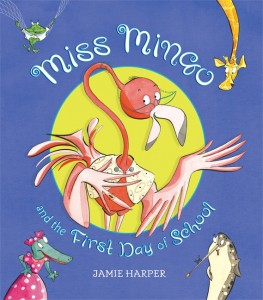 "back to school" plot, but Miss Mingo and the First Day of School delivered surprising lessons about zoology and diversity!
Each student in Miss Mingo's class is an animal, and no two are alike. There is a narwhal, a hippo, a cricket, a pelican, and many other new classmates.
Miss Mingo elects to break the ice on the first day of class by allowing each student to share a fun fact about what makes them special.
In this way we learn that pigs can get sunburned, and cockroaches can eat anything (including paper and glue).
Miss Mingo and the First Day of School by Jamie Harper is useful for teaching children ages 4 to 7 about how to make an introduction to a group of new friends, how to celebrate differences in their peers, or just some fascinating facts about natural science.
Miss Little's Gift by Douglas Wood and illustrated by Jim Burke, is a book that I selected "for Jojo", but now it has a special
place in my Mama heart.
Miss Little's Gift is about Douglas, a new student in Miss Little's second-grade class.
Douglas doesn't "like" reading, and he doesn't like sitting still. Douglas has ADHD.
Miss Little has Douglas stay after class every day.
Though he is a reluctant student, Miss Little's gentle persistence in coaching Douglas in how to read results in a life-long love of learning.
This is a true story about award-winning author Douglas Wood, once a little boy who hated reading!
As a mother of a boy with ADHD, Miss Little's Gift made my heart sing with hope.
I have never seen a book like this; one that takes an artistic approach to describing the challenges of ADHD.
I will be reaching for Miss Little's Gift when Jojo needs inspiration for doing school tasks when he would rather be "throwing a football" (like Douglas)!
Kudos to Candlewick Press for these wonderful new titles!