I am a sentimental person, but often times the precious mementos I save don't get properly displayed.
Jojo was an early walker. When I look at his little worn pair of soft-soled leather baby shoes with the elephant on them, I remember holding is hand at a market in Bangkok as he padded through puddles of nastiness when he was about a year old (he refused to be carried).
UniqueSurroundings.biz gave me the opportunity to create a display for those precious first shoes that preserves every adorable scuff and stain and protects the memories they hold. I love that they are protected from dust! It is totally easier to dust the box than a pair of shoes.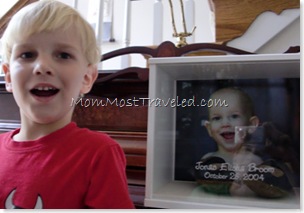 There are lots of options for personalizing and designing your own Baby Shoe Display Box, it was pretty fun to do!
The baby shoes are attached in the box but you can remove them if you wish! The process is not permanent.
The acrylic front panel slides off, making it easy to add other mementos. This might be a good spot to put Jojo's lock of hair (although he didn't require a haircut until he was past three years old!). Personalized text on the acrylic panel is free, and you get up to 30 characters on each of the two lines.
You can design your Baby Shoe Display Box to hold one pair or two single shoes. This would allow you to make the box for two children, or just two of your favorite baby shoes! Shoes can be displayed attached to the base or hanging from the top.
The customized photo background of course makes it adorable and 100% personalized, and you can choose between 8 base colors to compliment the background. And if you don't want a photo, there are other background options, too.
I haven't decided yet if our beautiful Baby Shoe Display Box will find a permanent home on the wall or a shelf, but wherever it ends up, it will bring me a smile every time I look at it!

Unique Surroundings is generously giving away a free custom display of any style from their Baby Shoebox Memories collection to one Mom Most Traveled reader! This is a retail value of $86 to $110 USD, depending on what style you select!
1.) To enter to win, visit http://www.uniquesurroundings.biz/ and leave a comment here telling me another product you love or something you learned about their store. Try to show that you actually did visit the site.
2.) For a second entry, leave a separate comment telling me what types of mementos you are saving from your child's babyhood. Over the years mom's have saved baby shoes, locks of hair, etc. For us, I made a plaster cast of Jojo and Deeds' baby feet! I accidentally forgot to write the date on them though. I just know they are small.
Please don't just comment with "Enter me" or "Sounds great". That totally annoys me. Those entries are not eligible to win.
One winner will be chosen at random.
This giveaway is open to those with a US mailing address.
This contest will close on Saturday, July 11, 12 midnight CST.