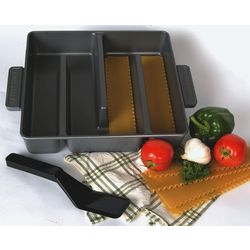 I love spinach lasagna, but definitely give me an edge piece, please! Does any body like the mangled middle slices with the cheese sliding off? Pffft. Not me!
The Simple Lasagna Pan from Baker's Edge is the ultimate solution to the problem of ugly, middle lasagna pieces.
With the Simple Lasagna Pan, most every piece of lasagna has two edges (or more in the case of the two coveted three-edge pieces), and everything is contained and orderly and appetizing.
The Simple Lasagna Pan is a clever idea, but this isn't just a novelty pan. This is some seriously good cookware.
The pan is heavy and sturdy, made from thick, hard anodized aluminum, and featuring a unique, two-layer nonstick coating that's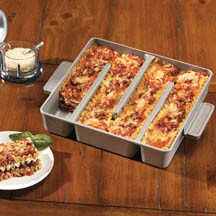 been specifically designed to release foods high in protein… the really sticky stuff like meat and cheese!
Does the Simple Lasagna Pan look familiar to you? Maybe you have heard of the genius that is the Baker's Edge Nonstick Edge Brownie Pan, produced by the same company.
But are the Edge Brownie Pan and the Simple Lasagna Pan different? Yes!
How? Well, the first and most obvious difference is the size. The brownie pan holds 11 cups and measures 9" x 12" x 2". It is ideal for a standard boxed brownie mix. The brownie pan is made from cast aluminum and weighs 2.5 pounds. It has a different type of nonstick coating than the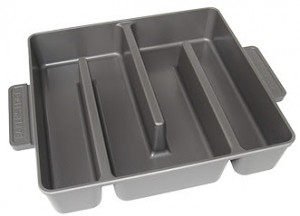 Simple Lasagna Pan, tailored for foods high in sugar.
The Simple Lasagna Pan measures 11.5" x 12.5" x 2.5", the "channels" being just the right size for lasagna noodles.
The Simple Lasagna Pan is heavy-duty, made from Hard Anodized Cast Aluminum and weighing in at 4 pounds, with a 17 cup capacity.
17 cups of awesome, that is!
You could use the Simple Lasagna Pan while entertaining, then as you serve each guest, whisper, "I saved the edge just for you!"
Instant social status boost!
Don't know how to cook lasagna? Baker's Edge has this "quick and delicious" recipe in PDF for you to try out. You don't have to boil the lasagna noodles!
Speaking of not boiling noodles (if you know what I mean…), you could use the Simple Lasagna Pan to make my no-boil macaroni and cheese! Just double or triple the recipe to fill the pan and enjoy the deliciousness!
So if you want to make lasagna, baked mac and cheese, and casseroles with a side of awesome-sauce, you know exactly what you need to do.
The Simple Lasagna Pan comes with it's own special serving spatula and has LOTS of fans!
There is a Baker's Edge twitter account, a Baker's Edge Facebook Fan Page, and lots of rave reviews all over the interwebs.
FineLiving.com picked the Simple Lasagna Pan as one of the top gifts for under $50 this holiday. I have to say I WOULD like a Simple Lasagna Pan more than a coffee table book or slippers.
Not Martha has some mouth-watering photos on her Simple Lasagna Pan review. *drool*
If you couldn't tell, I'm joining the Baker's Edge lovers.
Baker's Edge sent me a Simple Lasagna Pan as a gift. Awesomesauce.