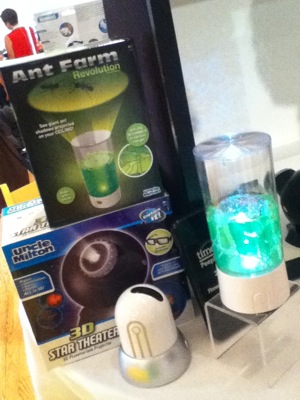 Uncle Milton Industries has brought us several innovative, educational science and nature toys over the years, and just in time for the holidays.
These won't even break the bank, and are suitable for boys and girls alike.
I saw the Uncle Milton Fireworks Light Show in action at Time to Play in NYC this past September.
I love this toy because my kids love guns, no matter how hard I try to push crafts instead of violence. Crafts. NOT violence.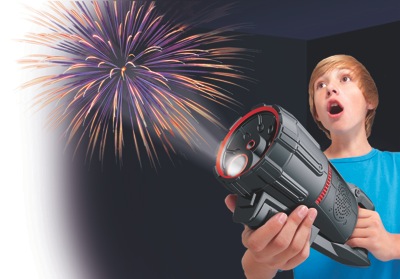 Anyway, that doesn't work! But the Uncle Milton Fireworks Light Show is a gun…without the violence! Instead of shooting anything harmful, you pump the launcher and pull the trigger to project fireworks light effects on the wall! See?
Nobody loses an eye (which is more than I can say for at least one person in my high school, who experimented unwisely with bottle rockets).
Uncle Milton Fireworks Light Show has different firework selections you can choose on a dial, and it is enhanced with real booming sound effects!
Love it! MSRP $29.99 Ages 6+
Do you know how much I love the idea of astronomy? I even took an astronomy class at a community college, which was way less achedemic than the classes on the actual Community TV program.
Anyway, all I remember from that class is Girl Scout cookies and wondering why learning involved so many smoke breaks.
But! With Uncle Milton 3-D Star Theater brings a 3D planetarium experience to my house!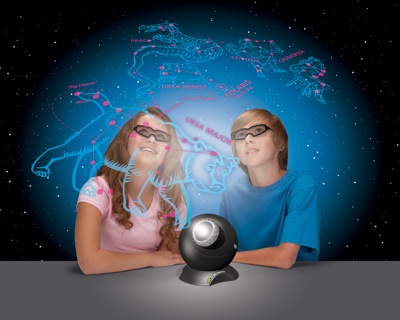 My kids and I can don the 3D glasses journey to stars, constellations, planets, and far away galaxies, all without fundraisers and smoke breaks.
Uncle Milton 3-D Star Theater MSRP $34.99 Ages 8
They were demo-ing both of these products indoors, with the lights on. The Uncle Milton 3-D Star Theater was in a three-sided box, and you could still clearly see the stuff it was projecting. The Uncle Milton Fireworks Light Show showed up well when pointed against a wall (again, not in pitch darkness).
I like the Uncle Milton Fireworks Light Show so much I kind of want to design a super hero persona based on the power to generate a fireworks display.