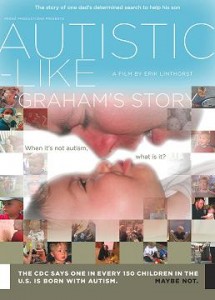 When Graham Linthorst was 17 months old, his parents Erik and Jennie were concerned by his unusual and repetitive behaviors.
Experts and therapists initially told them their son might be autistic. Others said he was not autistic at all.
Without a clear diagnosis, the Linthorsts urgently sought therapy to help Graham.
A program of behavioral therapy, speech therapy and occupational therapy didn't seem to meet Graham's needs.
What DID Graham need? How is a parent to get help for a "mildly disordered" child?
Graham's father Erik has meaningfully documented their journey from diagnosis through therapies and beyond in the film Autistic-Like: Graham's Story.
I learned of Autistic-Like: Graham's Story shortly after being told that my own son, Jojo, has Sensory Processing problems. As I watched Autistic-Like: Graham's Story unfold, I empathized strongly with Erik and Jennie.
The worry, "What is wrong with my child?" The powerless feeling, and the nagging question, "What can I do to help my child?"
I remember when I initially voiced my concerns about Jojo to the pediatrician. She looked at him and simply stated, "Well, he's not autistic."
Autistic-Like: Graham's Story reveals the emotional journey that parents must embark upon in order to help their child, no matter how inconclusive a diagnosis might be.
There are no quick fixes, and every child seems to have his or her own unique course of treatments. Finding that course is a challenge in itself!

I'm so thankful for the single-mindedness in which Erik Linthorst chronicled Graham's progress from "diagnosis" and through the trials, errors, and successes of various therapies.
Autistic-Like: Graham's Story is ultimately a very encouraging film. I would love for more parents, teachers, and health professionals to watch Autistic-Like: Graham's Story, so that maybe when another "Graham" comes along, his needs can be assessed with open eyes and open minds.
For more information about the project that became this film, visit http://www.autisticlike.com
Previous posts about Sensory Processing Disorder on Mom Most Traveled:
Sensory Processing Disorder: One Mother's Story
Sensory Processing Disorder: A Mother Shares Her Experience
A Note from Kim McVean, O.T.R./L.
Guest Post by Bailey Earith: Sensory Processing Disorder in Children
Products helpful for children with SPD:
Occupational Therapy With Britt Collins (DVD Series)
SmartKnitKIDS Seamless Sensitivity Socks
Bilibo
Myself Belts