I'm sitting across from a snoring 4-year-old who had a full and fabulous day of firsts in Atlanta, Georgia.
Our day started off with complimentary juice and iced tea, delivered to our door with a gentle knock, as requested. You get those kind of perks for free when you are a Gold Level Member of the Omni Rewards program (its free to join)!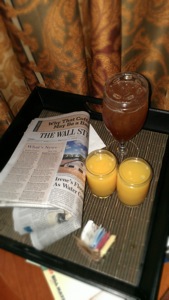 When we made our way down for The Art of Breakfast, a combination buffet/a la minute breakfast arrangement in the Omni Hotel restaurant (served until 11 am!), Deeds very purposefully selected oatmeal with sugar, cinnamon, a tiny bit of Kashi flakes on the side, and a smattering of fresh blueberries.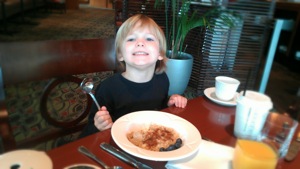 I was delighted to see not only a gluten free section of the breakfast buffet, but also a DEDICATED TOASTER to prevent cross contamination.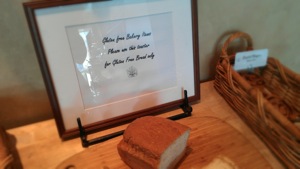 After putting away a three egg omelette, fresh strawberries, blueberries, blackberries, pineapple, some gluten free cereal, soy milk, and green tea, and half of a gluten free carrot muffin (and that was just me), we waddled across Centennial Park to the Georgia Aquarium.
There are dolphin statues all over the area, decorated in unique ways to promote the AT&T Dolphin Tales show in the Aquarium. We got to watch the show, which was entertaining and had unexpected elements like CGI animation, music, singing, choreography, light and water effects.
And of course it also had the cute dolphin tricks like when they do that thing up on their tail? Awww!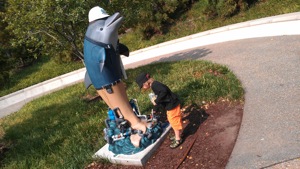 Before the dolphin show, Deeds and I were grateful to have a VIP tour of the Aquarium. This is a tour that school groups experience.
We got to go in rooms used for education.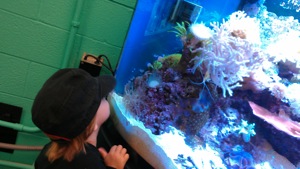 And we got to see the top of the tanks! The view of the whale sharks (D's favorite, he hasn't stopped talking about them) was amazing!
I was amused to see tons and tons of Instant Ocean in the basement.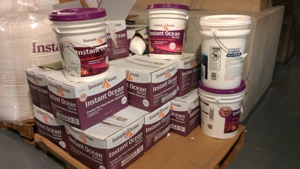 And in the non-VIP tour, you get to crawl in a plexiglass tube for great photo opps with penguins.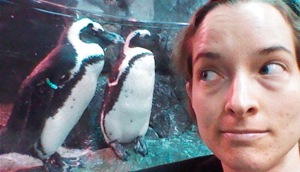 We ate lunch at Googie Burger, right in Centennial Park. What a great place to people watch, eat, and relax on a temperate day!
I had a delicious veggie burger made from black beans and rice, and Deeds had a single bite of a cheese burger (I saved it for later). We both had fresh lemonade and homemade fries!
I actually asked Deeds to take his hand out of his throat for his photo, but he wasn't havin' it.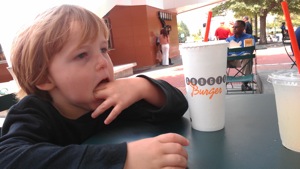 On the walk to the World of Coke, we stopped at one of two play areas in Centennial Park. Deeds had fun chasing pigeons.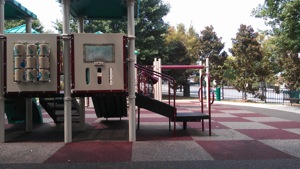 At World of Coke, the Polar Bear was taking a break when we approached. He pretended to be asleep, and Deeds inched close to him.
I was afraid he would have a freak-out if the Bear suddenly sprang to life, but Bear thoughtfully kept it low key.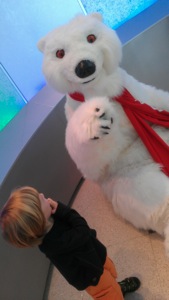 We took in a 4D movie about the secret ingredient in Coke. My favorite was looking over at Deeds grinning with delight as the seats lurched back and forth.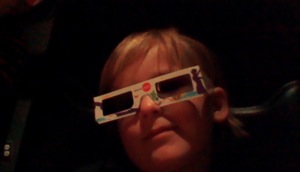 After the movie, he was SUPER excited to drink "COCA COLA!!!!" By "super excited" I mean like CHRISTMAS MORNING excited.
Then I realized, Deeds has never had Coca-Cola before. Until this very moment, today, in the tasting room of The World of Coca-Cola.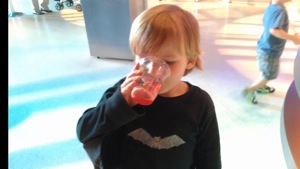 After we sampled like 60 coke products each, Deeds started walking in wide, slow circles with a glazed look. It was kind of amazing to behold.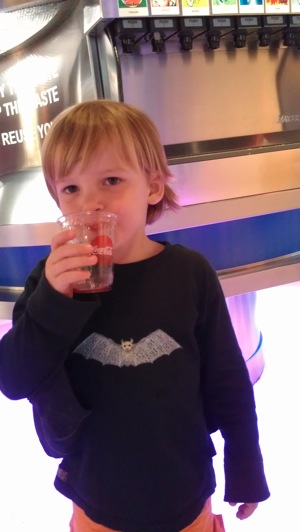 We spent a long while in the gift shop, looking at everything imaginable. At first, Deeds asked for a $6 bottle opener to open his souvineer bottle of Coke, but I told him I could open it at the hotel.
Oddly, he usually doesn't ask to buy things in stores. I guess Deeds is self-actualized.
We rested up at the Omni, then headed to Rise for some sushi with a dear travel blogger friend.
I learned about ScoutMob just in time to locate a 50% off coupon, discounting my entire bill! Huzzah!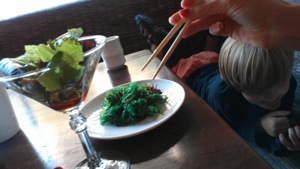 Deeds and I shared seaweed salad and some spinach/cucumber sushi rolls. That was my first time experiencing the spinach/cucumber combo, and it was pretty fun!
After dinner we went BACK to the park, and this time Deeds played on a handicap accessible playground, adjacent to the one he enjoyed earlier in the day. His favorite thing was a slide made out of rolling cylinders.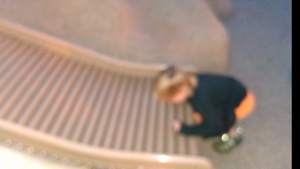 Easing back toward our home base, we providentially passed by the Olympic ring fountain in Centennial Park right at 9pm, when the music and light show was starting!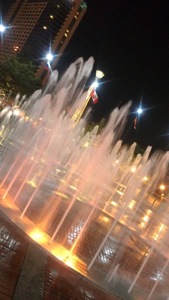 What a day! Deeds wants to stay here, "for five months!"