Deeds had quite the treat at Art of Breakfast in the Omni Hotel CNN Center this morning. He got the idea to order "hot chocolate, and cold juice."
Well, the hot chocolate came with about 1/3 a cup of whipped cream on top, with fudge drizzled all over it. Hot diggity dog!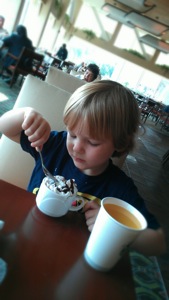 Then he ordered pancakes, which he chose to eat with blueberry jelly. Wow, he was proud to wield his own butter knife.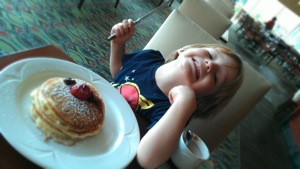 I indulged in an egg white omlette (no cheese), fresh fruit, and I Can't Believe Its Not Gluten toast. That isn't an actual brand, but it was gluten free bread.

After checking out from the Omni (sniffle), we went to the Atlantic Station area where I continually stalk real estate online. We got a great view of a REAL TRAIN. Yes. A real one. Moving. And honking.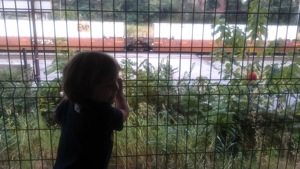 We at lunch at Noodle, which resulted in Pan-Asian awesome, including a cup of miso soup for Deeds…that was totally like a DD cup of soup.
I had the 8 Veggie Bowl, with brown rice. And there in the background is our seaweed salad. We have shared one every day this week, I didn't want to break the trend.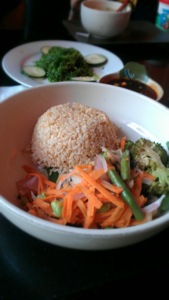 Next on the agenda was the High Museum of Art. From the entrance, Deeds spied a giant fruit sculpture happening outside. He freaked out wanting to see it, so they unlocked the doors for us. But we weren't allowed to touch it or walk on the sand, so Deeds was a little deflated.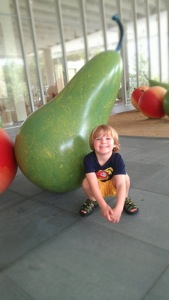 We looked at some more things that you COULDN'T touch, my personal favorite being the folk art…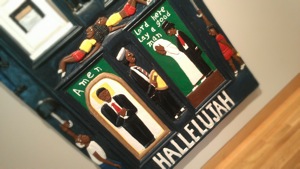 Then we went to the kids area of the museum were you could TOTALLY touch things and DO STUFF, like make a little artistic creation out of a bunch of magnetic objects.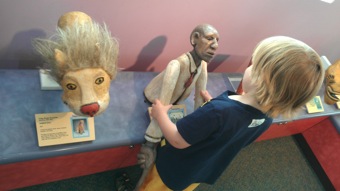 We spent a great couple of hours in there, and learned that for the first FOUR Thursdays in September (1, 8, 15, and 22nd), there will be special FREE activities at Alliance Theatre, Atlanta Symphony Orchestra, High Museum of Art, & Young Audiences.
On our drive to
Embassy Suites Buckhead
, Deeds napped in the car. Just after check-in there was the nightly free snack time/happy hour. I think they called it Manager's Mixer?
At any rate, we got free drinks (alcohol or sodas, you can pick…if you are of legal drinking age), chips, salsa, guacamole, animal crackers, goldfish crackers…we were chowing down, and this happens EVERY week day!
Combined with the free breakfast standard at Embassy Suites hotels, our eating budget won't have to be so high!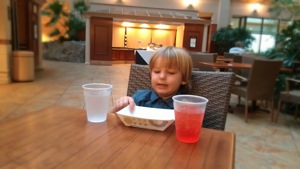 After resting in the room a bit, we took the free Embassy Suites shuttle to
Lennox Square
.
I found some headbands I wanted to buy, and then realized I FORGOT MY WALLET AT THE HOTEL.
Dang it! I had planned to buy Deeds some dinner from the food court, but in the end he just had granola bars back at the hotel.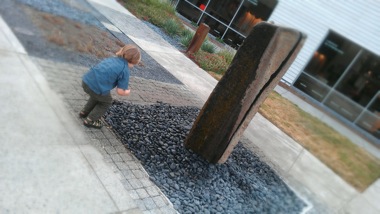 At least I had a free ride back on the Embassy Suites shuttle!