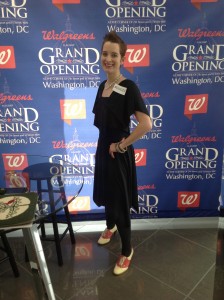 I love going to Washington DC from NYC, it is so convenient and easy, but a whole different world once you get there. On March 21 I had a fun reason to travel to DC; it was the grand opening of a brand new Walgreens Flagship store at the corner of 7th and H in DC Chinatown.
This was a special occasion, a veritable red carpet with famous and influential DC residents. The store itself took center stage, with three levels of majesty.
The pharmacy and Take Care Clinic are at the basement level of this Walgreens Flagship store. The Take Care Clinic is a walk in clinic right inside the Walgreens. It has a set price list and accepts all kinds of patients, no matter their insurance.
In this pharmacy is an iPad equipped with a health guide to help customers navigate the wide range of health and wellness products and services.
Exciting to me is that the Take Care Clinic is open from 8am to 6pm on week days, and 10 a.m. to 6 p.m. on weekends.
Isn't it interesting how often times people don't get sick during regular office hours? Thanks for being smart about this, Walgreens!

The Take Care Clinic at Walgreens has $29 physicals for sports and camps! And you can walk-in! Whoop!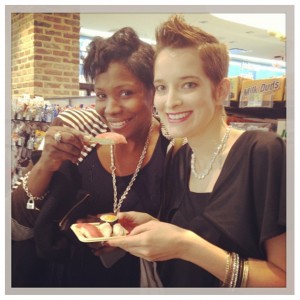 On the street level is all of the food and goodies! Tawanna and I enjoyed the fresh UpMarket sushi! Yum Yum!
Have you heard of the Coca-Cola Freestyle machine?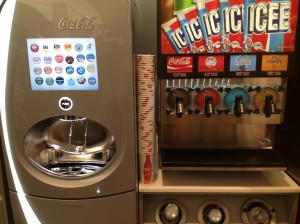 You press these digital buttons to be your own Coke product mixologist and create the beverage of your choosing! I am partial to my vanilla-cherry-root beer cocktail!
Think you can do better? There are over 130 possible combinations!
There are hundreds of fresh food items, an Upmarket Cafe with a barista, and a juice and smoothie bar. Also see: some pretty fresh and tasty cupcakes.
Upstairs from the ground floor is an entire floor dedicated to the LOOK Boutique! It has a nail bar, and dozens of high end cosmetic, skin care, and hair care brands not typically found in drug stores.
Available at LOOK Boutique is Britain's leading skin care brand, No7 by Boots.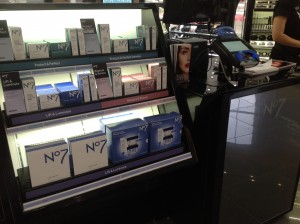 No7 has all kinds of good stuff like anti-aging serums. I am pro-anti-aging! Does that make sense?
In all of the happiness, yummy food, and general excitement, I still took the time to do some celebratory Awkward Stretching with my pals: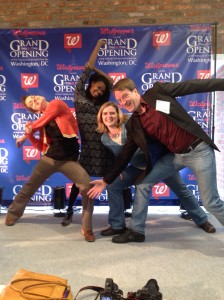 There are tons of more pictures and even a few videos of my fun time at the brand new Washington DC Walgreens Flagship store on my Google+ Album!
Walgreens is doing a great job in providing comprehensive care options and health and daily living products for the Chinatown neighborhood in Washington, DC!
Check out more accounts from my buddies who were there!
World Travel Mom wrote about Corner of Happy and Healthy: Walgreens Flagship Store Washington DC
Musings from Me loved that Walgreens had it all!
I'm Not the Nanny had a joyous experience, and she liked my shoes!
A Parent in Silver Springs got her video skills on!
The Chatty Momma was there in all of her glory!
Check in with Walgreens on Facebook, @Walgreens on twitter, and Google Plus!
"I was invited to the opening of the Walgreens store opening by Collective Bias®
and Walgreens #CBias #SocialFabric All Opinions are my own!"