My family was sent a trio of family movies from Phase 4 Films via Team Mom.
We got some microwave popcorn and mini M&M's, along with these new-to-us DVD's.
Smitty is about a 13 year old boy and his smart farm dog. My younger son Deeds loves animals, and come to think of it, this film probably spawned some of his longings for a dog that he voiced later in the week. Smitty helps teach Ben important life lessons about friendship, family and responsibility.
Freddy Frogface is another dog-and boy story featuring ten-year-old Victor who can't wait to perform in his town's talent show with his dog Sausage. This tale is animated, and Victor must contend with the town bully Freddy Frogface, who wants to spoil Victor's talent show dreams.
Donkey X is a version of the classic Don Quijote de la Mancha, in animated form that young audiences can appreciate. The twist is that the story is told from the point of view of Rucio, the bravest donkey of Castile. Donkey X was probably my favorite movie of the bunch, if only because it didn't make my children beg for a pet.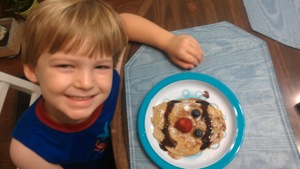 I REALLY prefer an at-home movie night vs. taking the kids to a movie theatre. The cost is cheaper, plus I can do quiet, stationary chores such as folding laundry or doing dishes whilst we watch, and the kids aren't beating one another. Win-win!
Phase 4 Films are available for purchase at Target, Walmart and Amazon.com!