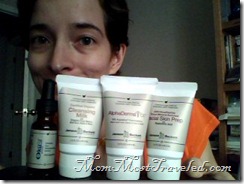 Janson-Beckett Cosmeceuticals has developed what they call an "injection-free alternative to BOTOX™"; age-defying treatments in a travel sized kit.
The Anti-Aging on the Go kit  includes:  1.5oz Tubes of Cleansing Milk, Skin Prep, AlphaDerma CE, and 1/2oz dropper bottle of OkuSil (all carry-on approved sizes).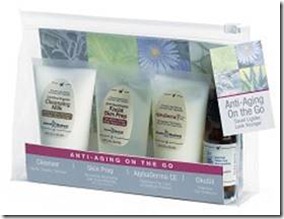 The Organic Cleansing Milk is a facial wash and make-up remover. It is Certified Organic and not tested on animals.
When I tried the Organic Cleansing Milk, it didn't really lather like soap, but it did leave my skin feeling very moisturized. It is a gentle wash.
AH3 HexaPeptide Facial Skin Prep is for reducing fine lines and depth of wrinkles. It is applied after washing and drying your face.
After using AH3 HexaPeptide Facial Skin Prep, you wait for it to dry and then apply AlphaDerma CE and/or OkuSil.
AH3 HexaPeptide Facial Skin Prep is clear and the texture is like aloe vera gel. It dried quickly after application.
AlphaDerma CE is "Ideal for Fine Lines Under & next to Eye Area (crows feet), Wrinkles on the Forehead (frown lines) and any other place Fine Lines & Wrinkles are present".
It contains ACETYL HEXAPEPTIDE-AH3 (ARGIRELINE), which relaxes facial muscle contractions to smooth out fine lines and depth of wrinkles.
DMAE often called "facelift in a jar", helps Firm and Tighten the skin. ELASTIN is the main ingredient in the skin that allows it to stretch without leaving marks. AlphaDerma CE contains 100% rare, costly, freeze-dried powdered ELASTIN concentrate – which has almost 100% amino acid content. This makes our ELASTIN 10x more potent than any other standard ELASTIN products used in the U.S. or abroad. COLLAGEN is an integral part of the support structure of the skin. The addition of our collagen to the formulation fills in unwanted fine lines and wrinkles.
AlphaDerma CE is the only product containing all of these age defying ingredients!
The AlphaDerma CE is white and light like a thin lotion.
Okusil is specially formulated with 10% Argireline to reduce puffiness and discoloration while firming under and above the eye area.  

Okusil is clear and has a gel-like viscosity. I had a little trouble getting some into the medicine dropper, but the dropper is also a useful spreader.
It is recommended to use Okusil is twice daily for optimal results.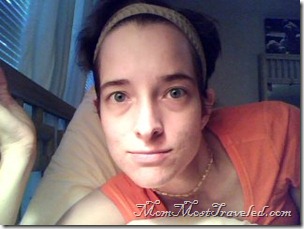 Here I am post Anti-Aging On The Go regimen (and no make-up). What do you think? Facelift in a jar?
The Anti-Aging On The Go travel set retails for $99 and can be had at JasonBeckett.com
Follow @JasonBeckett on twitter, fan Jason Beckett Cosmeceuticals on Facebook, or check out the Jason Beckett YouTube channel to stay in the know.